Andro 400 is a wildly popular dietary supplement that is primarily taken by men, however some women also benefit from it as well.
It has been among the most popular options out there for quite a while, originally launching in 2004, which is a really long time in "supplement years" since we see so many different products come and go all the time.
Andro400 has managed to stand the test of time, and we're really excited to bring you this review where we'll cover everything you need to know about this product before you buy it so that you know exactly what you're getting and there aren't any surprises.
It's popular among men who are starting to get a bit older, when their bodies aren't producing as much testosterone and they're looking for a way to keep that motivation, energy, and lust for life that they had in their younger years. Added benefits of having your testosterone levels in check are an increase in stamina and physical performance, more energy, and an improved sex drive.
Doesn't sound too bad, hey?
There are many dangers associated with low T levels, but taking a proper supplement that will encourage your body to get back to producing correctly can make a significant difference in how you feel, how you perform, and how you act.
These days, most people understand that testosterone plays a crucial role in a man's body, but many men still aren't really sure what they can do. The lethargy and much more severe downsides to low T can creep up gradually. Some guys write it off as "just getting old", but at the end of the day, let's talk about what you can do to feel like your younger self again and whether or not Andro 400 can help with that.
Before we dig in too deep, let's go over some of the pros and cons of this supplement.
PROS
When your testosterone is adequate, it can help you to have more energy, which means you can workout more, which means you can build more muscle, which means you'll burn more fat… the benefits just keep going and going. It can truly feel like a missing puzzle piece finally landing in place, it helps so many different things come together. That's because T is so crucially important for our bodies.
The list of pros goes on far past the handful of things we've already mentioned, but to really sum it up, you could say that it helps you feel like you again.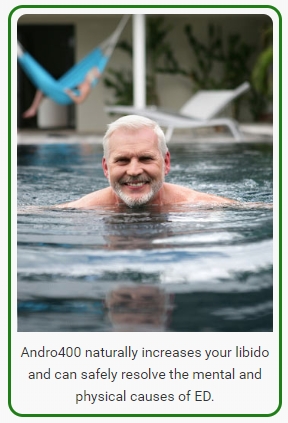 Andro 400 has a 90 day money-back guarantee. If you aren't satisfied with it, you can send it back. You don't need to wait around for an RMA authorization or anything like that, just return the unused portion of the bottle and they'll refund you.
CONS
Nothing's perfect, and there are some things you need to keep in mind in order to ensure your expectations are met and even surpassed.
For starters, this isn't a steroid at all. This isn't a hormone pill, and there isn't any testosterone in it directly. Instead, it's an herbal product that helps to stimulate your body's own testosterone production in order to achieve it's peak potential in a natural way. Now, this isn't necessarily a negative thing, as long as you understand that this isn't the type of stuff you'll see people injecting in the gym or anything like that.
You have to order it online. It's definitely convenient and saves you money, but it can be a downside for some people who would rather be able to just walk into a store and purchase it. These days, buying things online is very safe, so it's nothing to worry about it.
Benefits
Made from an incredibly potent herbal extract, Andro 400 has a long list of benefits.
From improved energy so that you can enjoy time with your friends and family more, to helping you trim away some of that extra belly fat, to helping with libido issues that many men start to experience later in life, it all comes down to testosterone.

This is an all-natural product, and we'll get to the ingredients in just a moment. They're upfront about what's in it, which is always good, it's better than hiding behind ingredients listed as "proprietary blend" or what have you.
Some women take it too, as testosterone is also an important hormone in the female body. After a woman's reproductive years, her testosterone levels will drop dramatically. Like in men, testosterone is important for both physical and mental health in women.
Before and After
Keep in mind that you aren't going to see results overnight. It can take some time for your body to adapt to producing more testosterone, and again, this isn't some kind of crazy steroid that's going to instantly start pumping through your veins and turning you into a beast overnight. That's not what this is for, it's for helping men (and women) who are typically over 30 and are experiencing a decrease in testosterone and are looking for a natural solution to help get things back in order for themselves.
With that said, here are some examples of the incredible results people have experienced before and after starting to take Andro400. Of course, your results will vary on many things, including what your T levels are now, what's possible with your body, your levels of physical activity, overall health, and more.
Side Effects
When you start to get into the realm of testosterone supplements, there can be all sorts of different side-effects that one may encounter. From the severe side effects of roids, to certain cheap supplements that are loaded up with random fillers that you may react badly to, you don't have to worry about any of that with Andro400. The reason?
Because it's 100% natural, and there aren't any chemicals of any sort, there are no drugs, no synthetic compounds, no hormones, no roids, and not even caffeine – so there's nothing to worry about in terms of side effects.
Ingredients
The active ingredient is an herb called Eurycoma longifolia (E. longifolia). This particular herb is rare, growing in Malaysia and Indonesia. According to the manufacturer, "It has been used safely and effectively in Asia for centuries by hundreds of thousands of people for a broad range of medicinal purposes, including pain relief, speeding up the healing process, improving libido and sexual function, increasing energy and boosting testosterone."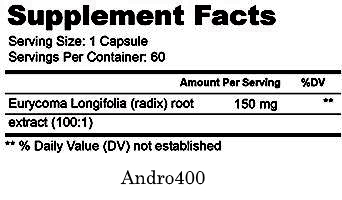 Recommended Dosage of Andro 400
One capsule contains 150mg of pure Eurycoma longifolia radix (root) extract in a one hundred to one ratio, in other words a very strong extract.
Does it Work?
There are studies to back up the efficacy of the active ingredient of Andro400, and plenty of people who re-order again and again because they love the results they're getting. At the end of the day, everyone's body is different and their needs are different, so the only way to know for sure how well it will work for you is to give it a try. This brings us back to the 90-day guarantee that you get when you order it. If it turns out that it doesn't help you achieve what you're looking for then you don't have to worry about it – you'll get your money back.
Price
Relatively less expensive compared to other testosterone-improving supplements, you can pick up three bottles for $89. They also offer an autoship special for $29.95 per month, which means you don't have to order 3 at the same time, but you will be sent a new bottle each month until you cancel. You can also grab a single bottle one time for $34.95, and they offer numerous other bundles all the way up to a dozen bottles for only $259.
Where to Buy
The only place that you should considering buying Andro400 is from their official website. It's not currently available in stores, and you shouldn't bother going through a re-seller when it's easy to get it right from the source. This ensures that you know you're getting the authentic product, and that you're covered by their 90 day money back guarantee, too.