Many testosterone boosting products have aggressive sounding names specifically designed to appeal to those dealing with Low T and APE by Athletic Edge is no exception, although it's an acronym for Alpha Performance Enhancer. Marketing aside, men who feel the need to take supplements to help with their low testosterone levels or those wishing to boost their strength and performance have a wide variety to choose from, which can be daunting for some.
A natural T booster, this product helps with optimizing your natural testosterone levels while helping to encourage fat loss and muscle growth. Before you get too excited, it's important to remember to check with your doctor before taking any new supplements, especially if you're on medication or have health issues. Here we take a look at Ape to see what it has to offer.
Pros
Here are some of the pros  that people report after taking this supplement.
Helps to increase energy
Gives your strength a boost
Assists with building lean muscle and reducing fat
Good value for the money
Your own results will vary based on your body's unique chemistry, how you react to the ingredients, and the amount of effort you put into other things like keeping track of  the rest of your diet and nutrition, and of  course how hard you're working out in the gym.
Cons
It's not all perfection for every single person who takes it, so here are some of the reported negative aspects:
Acne can be an issue
It takes a while to see results
Benefits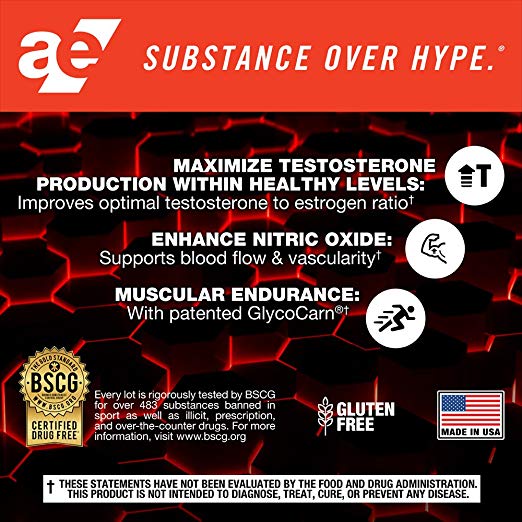 Building strength and stamina, Ape also helps with sculpting muscle and losing fat, which can lead to better definition when combined with proper diet and exercise. There are 4 attributes included in their comprehensive formulation:
Testosterone production is maximized within healthy levels: by supporting a 22% increase in free testosterone 12 hours after taking it and increasing bio-available testosterone 1.8 times after 8 weeks.
Your physique is refined: by supporting 2 times the fat loss after 8 weeks.
"Alpha-Maleness" is improved: by supporting sexual health and vitality in the short and long term, while promoting a healthy estrogen balance.
Vascular and Athletic performance is enhanced: by increasing Nitric Oxide which in turn increases oxygen and blood flow, along with increasing stamina and endurance during high intensity, repetitive workouts.
Side Effects
These side effects have been mentioned by some people who take this supplement. If  they are deal breakers for  you, it might not be worth trying it – even though not everyone will experience them.
Increased sweating, especially during exercise
Acne, especially on the back
Does It Work?
As with every supplement, that's kind of a loaded question. Many people who use it report feeling a number of  benefits to their workouts and physiques, but not everyone that picks up a bottle is going to notice a difference. Other factors are at play. The word "supplement" itself says that it's used to supplement what you're already doing, like eating right and working out. There's no magical shortcut to an insane physique overnight, it takes a lot of work and effort, and nothing that comes in a bottle is going to make it easy. Having said that, they can supplement your work and existing nutrition and help push you in the right direction, helping you achieve your goals sooner.
Ingredients
Vitamin D 1,000 IU – for boosting testosterone
Vitamin B6 5mg – for increasing muscle mass and assisting with testosterone production
Vitamin B12 10mcg – for boosting energy levels, metabolism and testosterone
Folate 100 mcg – for supporting testosterone production and balancing hormone levels
Zinc 15 mg – for increasing levels of free testosterone
The following ingredients are part of Ape's proprietary complex blend of pro-testosterone and anti-estrogen components, which is a total of 1305 mg per serving:
Glycine propionyl-L-carnitine hcl, Fenugreek extract, Maca extract, Black pepper extract and Indole-3 Carbinol. Other ingredients include Calcium carbonate, Microcrystalline cellulose, Silicon dioxide, Vegetable magnesium stearate and Silicon dioxide. Ape is produced in a facility that also processes Milk, Eggs, Fish, Shellfish, Tree nuts, Peanuts, Wheat and Soybeans.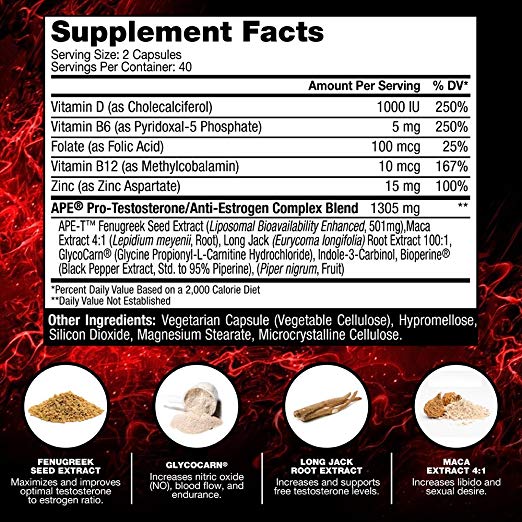 Recommended Dosage
Two capsules per day, taken with breakfast five days a week. On training days, take the serving 60-90 minutes before your workouts. Use this product for 12 consecutive weeks for best results and allow for a 4 week break before starting another 12 week cycle.
The good thing about Ape by Athletic Edge is that it's affordable and can help with building muscle and reducing fat, although there are products out there that have more positive reviews. It all depends on your individual needs and what you're prepared to put into it.
Where to Buy APE Test Booster
You can find bottles of APE for sale on Amazon and in other supplement stores around the web, if you're thinking of visiting a local store it would be a good idea to call them first since stock can vary.