Manufactured by Beast Sports Nutrition, Beast Super Test is a supplement that supports testosterone and normal sexual health while promoting nitric oxide production. Formulated to assist with new muscle growth and increased strength, it's also said to enhance the sex drive and help with cleansing the body.
This new formula focuses on boosting and maintaining testosterone levels along with increasing stamina and energy. With an aim to regulate estrogen, Beast Super Test also states that it can detoxify the kidneys and liver. It appears that they're offering a lot so let's dive in and take a closer look.
Beast Super Test Pros
Let's start by going over some of the pros to using this supplement.
Contains some well-known testosterone boosters
Includes many ingredients
Can help with energy levels
They have some great reviews
Beast Super Test Cons
But it's not perfect, as with any supplement it's not meant to be suitable for every single person on earth. It may be the perfect choice for you, or it may not. It's all about doing your research and making an informed decision. With that said, here are some of the downsides to using Beast Super Test in some cases.
Some of the ingredients are either unproven or irrelevant
Contains some proprietary blends
There are some side effects
Lacking key testosterone boosters
Issues with some of the dosages
Benefits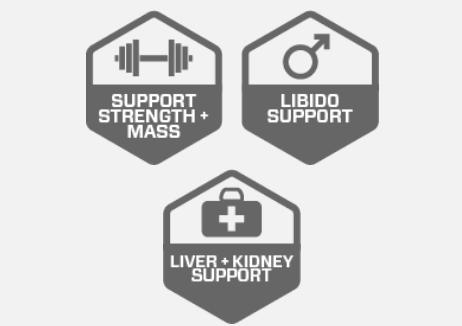 Providing 4 different kinds of Arginine to promote nitric oxide production, Beast Super Test is formulated to support normal testosterone levels, mass and strength, by igniting endurance and muscle growth. Support is the key word here, focusing on:
Normal sexual health
Normal testosterone and estrogen levels
Healthy kidney and liver function
Contributing to muscle mass and strength
Beast Super Test claims that it also helps with detoxifying the system and assists with maintaining optimum health and fitness, by incorporating ingredients that support healthy organ function. The anabolic formula includes anti-estrogens as well as liver and kidney detoxifiers and enhances the sex drive while increasing testosterone levels.
Does it Work?
It works as hard as you do. That is to say, if you're in the gym putting in the effort, you'll experience results. You've also got to eat right. This supplement will do exactly that; it will supplement your efforts to give you that extra boost on the inside by ensuring that your body is getting the fuel it needs.
Some of the ingredients are very common in various different testosterone supplements and have been shown to help boost your body's natural production levels. Other ingredients are either not proven as strongly, or could be considered to be there as fillers. It's not a huge deal, as long as you aren't sensitive or allergic to any of them, which is very uncommon anyways.
Side Effects
Not everybody who takes this stuff is going to experience side-effects, they aren't super common. Allergies to the ingredients are one concern, so definitely check over the ingredient list to see if you're sensitive to any of them.
Stomach aches
Cramps
Diarrhea
There could also be issues if you have allergies. See further down under ingredients.
Ingredients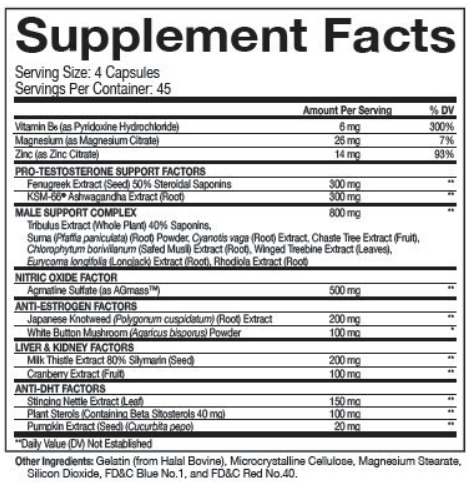 Here's a breakdown of the ingredients in this t-boosting supplement. Note the allergy notice at the bottom of this list, that's important to keep in mind if you're sensitive to any of those foods.
Zinc 14.4 mg – for producing peak testosterone
Magnesium 25 mg – lowers a testosterone binding protein called SHBG
Vitamin B6 – lowers production and effectiveness of estrogen
Puncture Vine (Tribulus Terrestris) – supposedly boosts testosterone
Tongkat Ali – can help with libido and boost testosterone
Ashwagandha – helps the body cope with stress
Fenugreek – for boosting the libido, controlling blood sugar and supporting testosterone levels
Arginine – for increasing blood flow and energy
DIM – for its anti-estrogen properties
Japanese Knotweed – for regulating estrogen
Cyonatis Vaga Extract – naturally mimics the effects of roids
Stinging Nettle Root – for lowering DHT and SHBG, which supports free testosterone
Beast Super Test also includes White Button Mushrooms, Suma powder, Chlorophytum Extract, Rhodiola Extract, Chaste Tree Extract, Winged Treebine Extract, Calcium‐D‐Glucarate, Milk Thistle Extract, Cranberry Extract, Pygeum Africanum Extract, Pumpkin Seed Extract, Polygonum cuspidatum, Gelatin, Magnesium Stearate, Microcrystalline Cellulose, Beta Sitosterol, Fd&C Blue #1, Fd&C Red #40 and Titanium Dioxide.
This supplement was manufactured in a facility that may also process milk, eggs, shellfish, fish, soybeans, tree nuts and peanuts, so there is a concern if you have allergies.
Recommended Dosage
Take 3-4 capsules before breakfast and 3-4 capsules before dinner, for a maximum of 8 weeks which is then followed by an off-cycle of 4 weeks. Do not take more than recommended and like all supplements and changes to your diet, consult with your doctor before consuming, especially if you're on medication or have a medical condition.
The instructions also state that you need to cease use of this product 2 weeks prior to surgery and that you must drink at least 64 fl oz of water daily while using this product.
Beast Super Test is loaded with ingredients and some say that a few of them are unproven but given the fact that some users have given it a thumb's up, it might be worth a try if you want to boost your health as well as your testosterone levels.
Where to Buy Beast Super Test & Price
You can buy Beast Super Test at a number of different supplement stores, on Amazon, on Bodybuilding.com, and more. It works out to about $1 per serving, depending on where you buy it. One container comes with 45 servings in total, which is 180 capsules.