Today we're going to Review the Best Nitric Oxide (NO2) Supplements and have a look at the top rated brands and ingredients!
Being a deceptively simple molecule, Nitric Oxide is one of the naturally occurring substances in the body which is responsible for regulating blood flow. Nitric Oxide can't be consumed directly but there are supplements that can help boost its production in the body.
An increase in the body's nitric oxide levels would result in increased strength and a boost in performance during exercise. It can also fight erectile dysfunction.
If you're looking for these effects, you definitely need to get a nitric oxide supplement and here are 10 of the best ones that are available in the market today.
Here's the Best Nitric Oxide (NO2) Supplements of 2022:
1. Zhou Nutrition NO Pro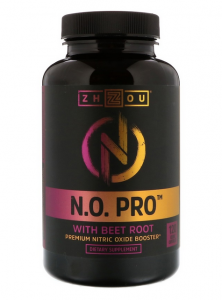 Zhou Nutrition NO Pro's perfectly blended ingredients takes the advantage of L-Citrulline, L-arginine and L-arginine alpha-ketoglutarate's properties that increases the nitric oxide levels in the body. This is further increased with the help of the newly discovered nitric oxide boosting power of beet root powder.
The presence of the beet root being a natural ingredient pushes NO Pro's rank to the top among all the other available Nitric Oxide supplements. It's the best in terms of plant extract and amino acid based production of nitric oxide in the body. And not only that, you would also love its capsule which is made of vegetable cellulose. It's the perfect NO supplement for vegans!
You can buy it from Amazon or Walmart.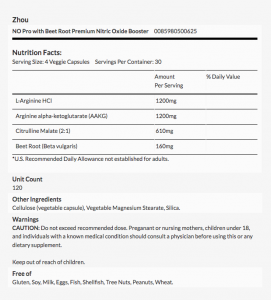 2. Sheer Strength Sheer NO

Sheer Strength's Sheer NO supplement makes it to the second spot. It is a combination of four compounds that work hand-in-hand to achieve a boost in nitric oxide levels of the body.
Aside from L-arginine alpha-ketoglurate, L-arginine, and L-citrulline being its active ingredients, it also has an added natural component in the form of pine bark extract. A simple gelatin capsule contains 60-1100 mg combination of these ingredients.
It's also free from unknown ingredients in the form of fillers making it a perfect choice if you want to improve the Nitric Oxide levels in your body.
You can buy it from Amazon or Walmart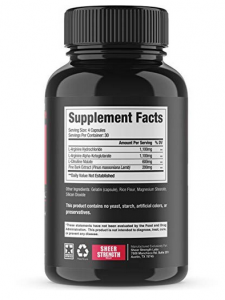 3. N.O. XT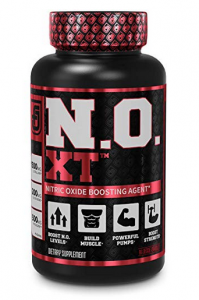 N.O. XT focuses on the power of L-citrulline, one of the amino acid ingredients in every Nitric Oxide boosting supplement. It's present at a high level of 1.5 grams in every serving and is therefore the dominant ingredient in the supplement itself.
An Arginine compound that is proprietary is also present. It's called Nitrosigine and L-glutathione together with Bioperine which is a black pepper extract also developed by the company.
Bioperine's presence helps boost the production of active compounds that are needed for various biological processes. This helps balance the amino acid reliance of the supplement. If this is something that sounds good to you then this product is going to be a perfect choice!
You can buy it from Amazon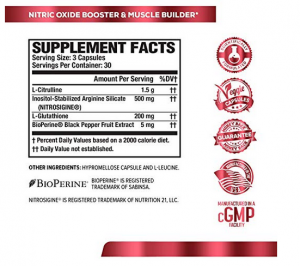 4. Evlution Nutrition Pump Mode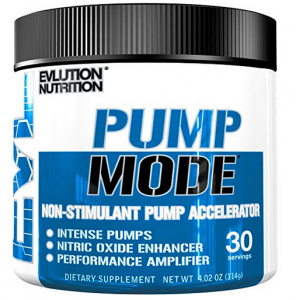 Evlution Nutrition Pump Mode is not like the other Nitric Oxide supplements in this list. It has a unique powder form which is placed in a tub and is capable of being mixed with food or drink. Yes! It can be added as an ingredient in your pre-workout drink, shake or even just on plain water.
It's not just focused on Nitric Oxide because it's also formulated to increase your pump by boosting water retention through glycerol. The feeling of fullness in your muscles will also be enhanced! Pump Mode tries to stay away from amino acids by using Betaine Nitrate instead. The substance is relatively new to nitric oxide supplements but is equally effective as its amino acid counterpart.
You can buy it from  Amazon or Bodybuilding.com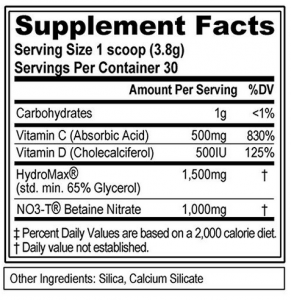 5. VEINZ Nitric Oxide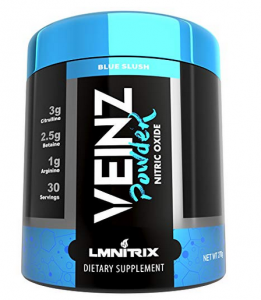 This supplement comes in bold blue color which is suggestive of its aggressiveness in producing results and the company's innovativeness as well. But its actual ingredients can easily be compared to the vigor of Spartan.
With the heavy dose of arginine serving as its primary ingredient, this supplement is potent enough with the added support from alpha-lipoic acid and citrulline.
Yohimbe is also included and it helps stimulate the body before workout increasing energy levels which other supplements don't do. If you want to focus more on arginine then this supplement is a good call. However, if you're after balance in nitric oxide enhancing ingredients then it's not the best for you.
You can buy it from Amazon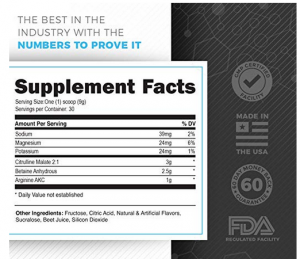 6. Healthy Body Inc Nitric Oxide Pump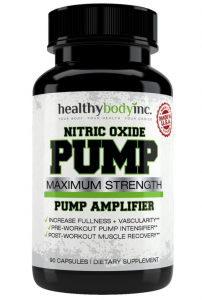 Among the Nitric Oxide supplements in this list, Nitric Oxide Pump is one of the amino-acid based ones that do the job well. It is able to deliver simple yet effective and straightforward effects in a good balance.
It has L-citrulline, L-arginine alpha-ketoglutarate, and L-arginine as its main ingredients and all are mixed in equal amount. However, the dosage in every capsule is small which can be frustrating to some but the good thing about it is its balanced amino acid levels.
You can buy it from Amazon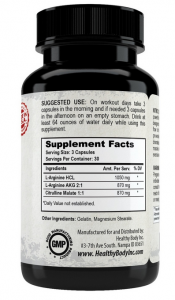 7. Cellucor NO3 Chrome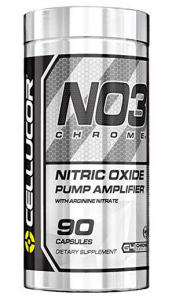 The nitric oxide booster in Cellucor is mostly composed of amino acids. And another strength that it has is its unique ingredients that are not found in any other nitric oxide supplements out there.
It contains grape seed extract and as well as vitamin C which isn't common among supplements that are made to boost NO in the body. The company claims that these ingredients are meant to boost the levels of antioxidants in the body.
The other ingredients are said to improve extreme vascularity complex but it obscures the actual dosage of the supplement. If you need to learn more about the specific dose of Nitrosigine and citrulline that you need then you better look for the information elsewhere.
Buy on Amazon or Bodybuilding.com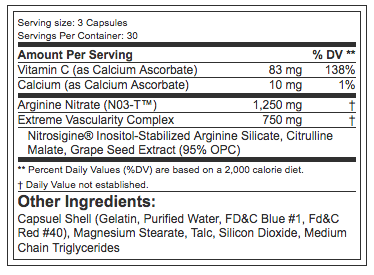 8. Prime Labs Muscle Xplode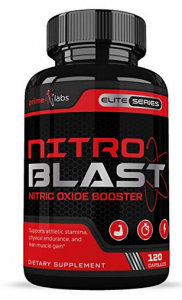 Prime Labs has Muscle Xplode as its entry to this list. It leans toward the holistic approach in pre-workout supplements though it also contains some amino acids blended well to boost nitric oxide in the body.
The supplement also employs thermogenics which encourages the oxidation of fat while you are exercising. This effect is brought by the yohimbe bark and tea extract ingredients which the supplement has.
If these are what you're looking for then you can try this supplement but if you want to stick with nitric oxide enhancing ones then you can choose from the other options above.
You can buy it on Amazon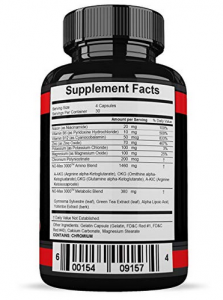 9. Parker Sports Nutrition N.O. Nitric Oxide Fuel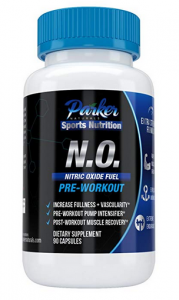 Parker Sports has its own nitric oxide-boosting supplement and it's pretty basic. It relies 100% on L-arginine alpha-ketoglutarate, L-arginine, and L-citrulline as its primary source of N.O. boosting abilities. However, its dosage per capsule is quite low and it's going to disappoint some.
There's no other ingredient that can take its performance to the next level and additional supplements are also absent. It just can't go to the level of the other Nitric Oxide supplements in this list.
You can buy it from Amazon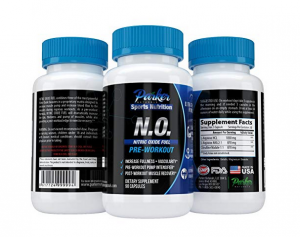 10. Vital Advaced Nitric Oxide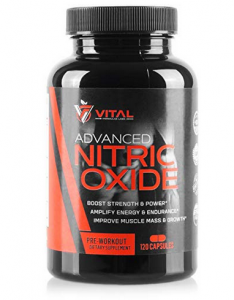 While it's called a nitric-oxide boosting supplement, this brand is more appropriately considered as a supplement for pre-workout. The nitric-oxide properties in it are on the mediocre level. Because of this, the amount of amino acid in it is actually obscured.
The supplement contains some stimulants for pre-workout stage like synephrine and yohimbe. This might even be more than what you are looking for in a nitric oxide supplement.
The same unique blend is also affecting the compounds in it. For instance, there is no clear description on how much synephrine or yohimbe that it contains and how much of it you are going to get.
You can buy it on Amazon
---
The Benefits and Side Effects of Nitric Oxide
Aside from being an essential substance in controlling the flow of blood in the blood vessels especially during workout or exercise, Nitric Oxide has also been discovered to be a substance that is capable of being modified using the right supplementation.
The reason for this is because nutritionists don't know how supplements can influence the production of nitric oxide which exists in gas form. This substance is produced in the cellular level that's why it is capable of regulating blood flow to the muscles and all the other parts of the body.
The Benefits
Blood flow is an essential part of almost every activity that we humans do but the benefits of nitric oxide exceeds just this single aspect.
It has also been found to improve one's weight lifting abilities, boost stamina and endurance and as well as fight erectile dysfunction. The topics may seem a bit dispersed but the flow of blood in the body is one of the common denominators in them. And because of that, Nitric Oxide has an influence in them all.
There have been several studies conducted using the different ingredients in Nitric Oxide supplements such and they have all shown an improvement in performance especially on rigorous activities. From weight training down to running, exercise and many other physically strenuous activities, these substances just don't fail to deliver!
Erectile Dysfunction may sound a bit off topic but let's admit it, sex is also an activity that requires much energy and without healthy blood flow, libido and your overall performance in bed would be very low. That's exactly the reason why people use Nitric Oxide-boosting supplements! Of course, the effects would differ from person to person but they are more or less identical in certain points.
The Side Effects
The supplements listed above and even those Nitric Oxide boosting substances, pills and powders that are available are generally safe to use.
But because they are just new, there's no long term data available yet. However, since most of the ingredients included in these boosters are actually natural by nature like amino acids, beets, grape seed extracts and others, it's a challenge to find the negative effects that these supplements may cause.
There's one thing to be mindful about though and it's the source of nitrate which isn't from beets. Nitrates are known to be preservatives in processed meats. Scientists and nutritionists have long been suspecting processed meats like sausage, salami, bacon, and others to cause cancer in the colon but this isn't clinically supported so far.
Eating root crops and vegetables like beet hasn't been associated with any kind of disease which is why some experts suggest beets to be a natural source of nitrates which can help boost one's performance.
What's The Recommended Dosage?
This is a vague aspect especially on the nitric oxide boosting abilities and how much one should take to achieve noticeable results.
If the nitrates in a supplement are coming from natural beet root powder, a dosage of at least 500 milligrams of nitrates is recommended for every serving in order to achieve some effects.
If the nitrate is taken from L-arginine, research and studies suggest a dosage of 3 to 8 grams of the substance each day. But these observations mostly come from medical tests which are conducted to find out what level of nitric oxide production is needed to help patients who have circulatory issues and even heart disease.
It is good to start at 3 grams per day but we're still hoping that further research would be conducted so we may know what dosage is needed for resistance training, endurance training and solving erectile dysfunction.