One of the main problems for men with Low T is estrogen and when testosterone is converting to estrogen rather than doing what it's supposed to do, it gets harder to build muscle and maintain other masculine attributes while dealing with lowered sex drive, strength and energy. Erase Pro might be able to help, as it's said to boost T levels while inhibiting estrogen and reducing cortisol.
Made by Physique Enhancing Science (PES), this supplement is an improved version of the original product called Erase. Since testosterone building also means boosting estrogen via conversion, thanks to the enzyme known as aromatase, Erase Pro contains aromatase inhibitors and ingredients designed to decrease estrogen. Here we'll take a look at this product and see what it has to offer.
Pros
Has many positive reviews
Includes some good ingredients backed by clinical evidence
Contains mostly natural ingredients
Can help to build muscle mass without breast development
Cons
It's expensive
Can cause joint pain and other side effects
Some users report issues with water retention
Can't be used for a long time due to increased levels of DHT
Contains a proprietary blend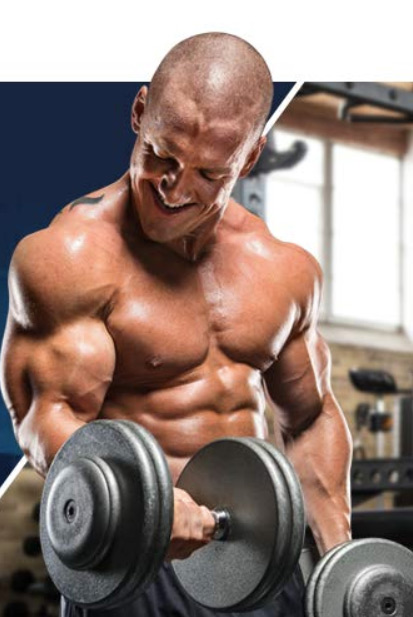 Benefits
Along with being an aromatase inhibitor, Erase Pro prevents estrogen from binding to receptors, which results in lowered estrogen levels and increased testosterone. Other benefits include:
Increased and defined lean muscle mass
Increased strength
Reduced inflammation
Help with weight loss
Increased focus and libido
Side Effects
There are a variety of side effects to take into consideration when using Erase Pro, mostly due to the increase of testosterone. One serious condition related to this (especially if due to an overdose) is the increase of DHT, which can lead to prostate cancer, among other negative results. Other side effects can include:
Acne outbreaks
Diarrhea
Insomnia
Oily or dry skin
Rapid growth of body hair or alternatively – baldness
Sore joints
Increased aggression and irritability
It's important to follow the recommended dosage instructions and to listen to your body if this supplement is giving you any negative side-effects. It's also a good idea to talk to your doctor, who may have other alternatives to recommend to help boost your testosterone, especially if it's measuring low.
Ingredients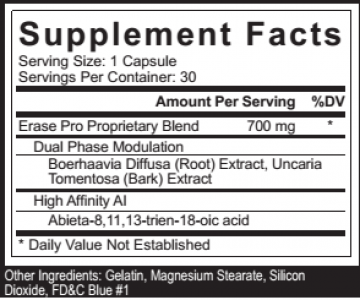 With one of the shortest ingredients lists you'll find out there in the world of supplements, Erase Pro contains a proprietary blend and what they call "High Affinity AI" which is an acid. These ingredients focus on blocking estrogen, which allows testosterone to free up and do its thing.
Erase Pro Proprietary Blend (Dual Phase Modulation) 700 mg:
Boerhaavia Diffusa Extract – an anti-inflammatory that helps free testosterone and reduce cortisol
Uncaria tomentosa bark extract – inhibits estrogen receptors by reducing the binding of testosterone
High Affinity AI:
Abieta-8,11,13-trien-18-oic acid – anti-estrogen which also reduces inflammation and fat while increasing libido
Other ingredients include Gelatin, Magnesium stearate, Silicon dioxide and FD&C Blue #1.
It's always better when companies reveal their transparent ingredient lists instead of hiding behind a proprietary blend. They use these blends under the guise of having some special magical combination, but at the end of the day, we would much rather know the exact doses of each ingredients. This masking allows companies to put whatever amounts they want in their product, for example they can claim to have some great expensive ingredient, but only use a small amount of it with a lot of other fillers. When they don't let you know exactly what's in the product, all you can really do is guess and speculate. Having said that, if the product works for you then that's what really matters, at the end of the day.
Recommended Dosage
Take 1 capsule with breakfast and stop taking it after 8 weeks, followed by a 4-week break. Some reviewers state that taking more than the recommended dosage can cause issues such as sore joints and other side effects as noted previously. It is not meant for those under 21 years of age and like all new supplements, check with your doctor first.
Erase Pro is said to be unavailable or discontinued and has been superseded by Erase Pro+. If you're interested in checking out other supplements we've reviewed so far, take a look at the many great testosterone supplements as alternatives to Erase Pro that won't be discontinued any time soon.