Produced by Evlution Nutrition, EVL Test is a natural testosterone support complex that's also designed to enhance stamina, strength and recovery. Containing important minerals, vitamins and natural ingredients made in a facility that is FDA approved and GMP certified, this supplement is also made in the U.S.
When a product is formulated with scientifically proven ingredients, you can feel more confident about the results, which is essential for those dealing with Low T, who are already in a vulnerable situation. Read on to see how EVL Test measures up.
Pros of EVL Test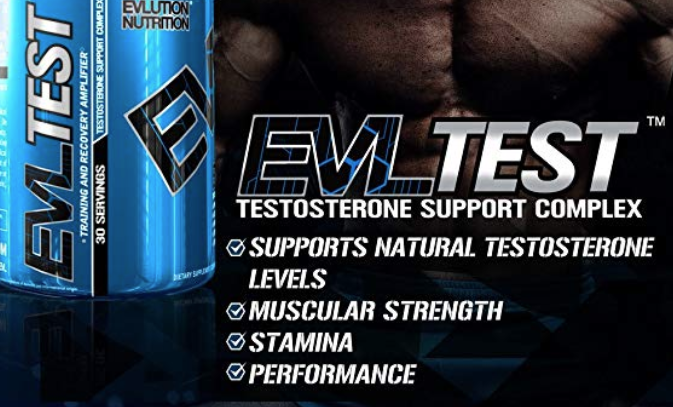 Here are the aspects of this supplement, and things you probabally want to know about it if you're looking up EVL test reviews. Just a side note: If this doesn't end up sounding like a good fit for you, and so you're still looking for something else, make sure you take some time to browse our site because we've reviewed countless testosterone boosters in an on-going quest to help our readers find the very best options out there.
Strong support from quality ingredients such as herbals, vitamins and minerals
Good value for the money
Good standardizations and doses
Production facility is GMP and FDA certified
Made in the U.S.
Enhances the quality of sleep
No proprietary blends
Not having proprietary blends is always something we've on the lookout for. Brands like to act like it's some kind of magical formula that only they've discovered, but usually it's just smoke and mirrors. That doesn't mean the proprietary blends don't work, but generally speaking it's not like they have some crazy combination that no other brand has ever discovered, especially if it's backed by actual scientific research, since everyone has access to studies about popular ingredients. To be clear: Proprietary blends aren't necessary bad, but it's a practice that we tend to discourage in the name of full transparency.
Cons
As with anything, your mileage may vary. Negative side-effects are not super common, but if you start to get headaches or feel bad from taking any supplement, you should stop taking it and seek out other options instead.
Drowsiness
Some ingredients show little benefit for muscle building
Can cause headaches
Does not include Boron
Customer reviews of this product aren't over-the-moon happy with it like some of the other options out there
Benefits
Although some scientific studies state that DAA (D-Aspartic Acid) and Fenugreek do not boost testosterone levels, EVL Test includes strong mineral and vitamin support that incorporates Vitamin D and ZMA. Considered to be a good testosterone builder nonetheless, this supplement can also:
Improve muscle mass and strength
Support natural testosterone levels
Increase stamina and performance
Improve the quality of sleep
Enhance mood and the libido
Designed to help with issues related to Low T in several ways, EVL Test can also improve growth and heavy lifting
Side Effects of EVL Test
Headaches seem to be a common issue with those using this product, although other side effects may occur, depending on your own health and medical conditions. Always consult with a health practitioner before using a new supplement, especially if you are taking regular medications. EVL Test is not for use by women and you must stop using this product 2 weeks prior to surgery.
Ingredients

Vitamin D 1,000 IU – supports bone health, healthy sleep patterns and helps maintain natural T levels
Vitamin B6 11 mg – supports the production of melatonin for good sleep and mood
Magnesium 160 mg – helps with neuromuscular contractions, energy and relaxation of muscles
Zinc 30 mg – an antioxidant that also maintains hormone balance and testosterone levels
D-Aspartic Acid  3,120 mg – supports luteinizing hormone production and natural T levels
Tribulus Terrestris Extract 750 mg – increases T levels, enhances the libido and reduces swelling
Fenugreek Seed Extract 500 mg – supports testosterone production and has antioxidant properties
Diindolylmethane (DIM) 250 mg – supports metabolism of estrogen and free testosterone
Other Ingredients include Isomalt, Povidone, Silicon Dioxide, Magnesium Stearate, Hydroxypropyl Methylcellulose, Propylene Glycol, Triacetin and Titanium Dioxide.
Recommended Dosage
Take 4 tablets on an empty stomach 30-60 minutes before going to bed. This supplement can be used for a maximum of 12 weeks and then a 4 week break is advised before starting up again.
EVL Test can be a good product for those with Low T, however men who have normal testosterone levels may only see improvement in terms of a higher sex drive – which is good enough for most men. See for yourself if this is a good investment, especially if you need that extra boost with natural ingredients.
How much does it Cost?
It works out to around $1 – $1.50 per serving, depending on any promotions that are going on and how many capsules you buy.
Where to Buy
You can buy EVL test at Bodybuilding.com, Amazon, and in a number of supplement stores. Don't be afraid to shop around to get a good price, but you won't find as big of a variance as with some other products, since this stuff is relatively inexpensive to start with.