Dealing with Low T by taking supplements, along with proper diet and exercise, can be made easier when it's offered in pill and powder form, such as EvoTest. Some reviewers have noted however, that the powder form has a ghastly aftertaste. Manufactured by BSN, this supplement is said to be a natural testosterone booster.
Marketed as a concentrated testosterone support that can be stacked with other supplements, this product is a full 3-week cycle in each bottle, designed to optimize natural T levels and encourage fat reduction and muscle mass. Let's have a look and see what it can do for those of us who are looking to combat deficiencies and boost performance.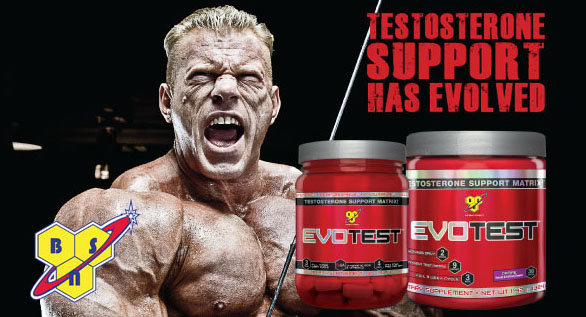 Pros
Let's start by looking at some of the pros that some people experience from Evotest.
Good for muscle building
Great for increasing the libido
Available in pill or powder form
Contains all-natural ingredients
Can help with T production
Cons
However, there are some possible downsides, too. Here are the cons of Evotest that are important to keep in mind. A not-great taste might not be a dealbreaker to you, but to someone else it might be, so weight these for yourself to see where everything lands.
Powdered form has a foul taste
Expensive product
Has some side effects
Contains proprietary blends
The problem with proprietary blends is that they rarely signify anything positive. Giving less information to the consumer is never a positive, as far as we're concerned. It's not necessarily a bad thing to use proprietary blends, but it's better to not use them, in our estimation. There isn't some super-weapon magic-bullet ingredient that supplement will discover that none of the others will know about, so proprietary blends are often just an excuse to not have to reveal how low the dosage is in some of the key advertised ingredients. We give the benefit to brands that brag about all of their ingredients and show you exactly what the quantities are.
Benefits
If you're a bodybuilder who wants to increase muscle mass and strength, EvoTest might be a good choice. For men wanting to improve their energy levels as they age and boost the libido, this could also be a product worth trying. Having DAA (D-Aspartic Acid) in this formula is a definite plus for boosting testosterone naturally. Other benefits include:
Increased workout performance
Intensified sex drive
Enhanced endurance and strength
Increased energy
Helps with fat loss
Being able to train harder will bring you all of the benefits of working out, sooner, and more impactfully. You'll get stronger, sooner, when you can train more. That's what it really comes down to, and in that sense the right supplement for boosting  your T can definitely be like a shortcut, but it still requires you to put in the work. Shortcuts don't work unless you're already moving.
Side Effects
Some people have experienced various minor side-effects from this, and just about any other, testosterone supplement. Here's some of the side-effects we've been able to round-up based on people's experiences. If you experience any negative side effects, you would be wise  to discontinue taking the supplement, look into their money-back policy, and consider finding a different option with a different set of ingredients.
Acne
Diarrhea
Upset stomach
Horrible aftertaste and tingling in the throat after taking the powder form has been reported.
Does it Work?
There are a lot of positive reviews from people who have used this supplement that will tell you it works and they definitely notice a difference from it. There are also reviews from people who report not really feeling much of anything from it, other than a nasty aftertaste. Your mileage may vary, but Evotest is becoming harder and harder to get your hands on. We'll offer up a solid alternative at the end of this article.
Ingredients
Vitamin D 400 IU – for boosting testosterone and enhancing bone health
Calcium 25 mg – for boosting performance and bone health
Magnesium 250 mg – helps to boost the libido
Proprietary Blend: X-Shock Composite – 2.8 g
Magnesium oxide – as noted above
Ginger root extract – Helps with blood sugar, digestion and erection issues
N-acetyl-cysteine – an antioxidant that can also detoxify the body
D-Aspartic Acid – boosts testosterone
Fenugreek Extract – for controlling estrogen and encouraging free testosterone
Suma Root Powder – for regulating hormones
Cordyceps – improves stamina and energy
Ginkgo – for regulating blood circulation
Lactic Acid – helps with building muscle mass
Linum usitatissimum (as ActiFlax) – can affect estrogen levels
Cholecalciferol – for boosting testosterone and mood
Proprietary Blend: EnduraForce Matrix – 3 g
Sodium Bicarbonate – for improving performance
Citric acid – has antioxidant actions
Malic acid – increases energy and battles fatigue
Other ingredients include Microcrystalline cellulose, stearic acid, aqueous coating, magnesium stearate, silicon dioxide, croscarmellose sodium, FD&C blue #3, yellow #6, red #40 and modified cellulose. This supplement is produced in a facility that also processes milk, egg, soybeans, shellfish, fish, tree nuts and peanuts.
Recommended Dosage
Tablet form: take 2 twice a day
Powder form: One scoop mixed with 177 ml of water twice a day
Take for a 3-week cycle with a 2-week break. Remember to drink at least 100 oz of water per day while taking this product and consult with your doctor before taking it, especially if you have a medical condition or are taking regular medication. They also advise that those under 18 years of age, women and men over 50 should avoid EvoTest and if you're planning to have surgery, discontinue taking it 2 weeks prior.
It's frustrating when you find a good product that has been reported as discontinued and although EvoTest can still be purchased on Amazon, there might come a day in the near future when it doesn't exist anymore. If you want to try something else with good reviews that's readily available, TestoFuel might be a better alternative.