In general, there are two different levels of male enhancing supplements on the market: those that are best for the younger crowd and those that are designed for more mature men. While Nugenix has a higher amount of DAA for helping older men with loss of testosterone, Nugenix Maxx contains no DAA and enhances other components formulated to assist younger men who are more athletic.
Having said that, this supplement might be considered a downgrade, however the manufacturer claims that it is an ultra-premium free testosterone booster designed to provide a powerful blend of potent ingredients that can help men operate at optimum levels. Let's take a look and see what all the fuss is about.
Pros
Contains proven ingredients including natural herbal extracts
Includes 3 of the Best 5 favorites: Vitamin D, Zinc and Black pepper extract
Does not contain a proprietary blend, so you know what you're getting
Has mostly positive reviews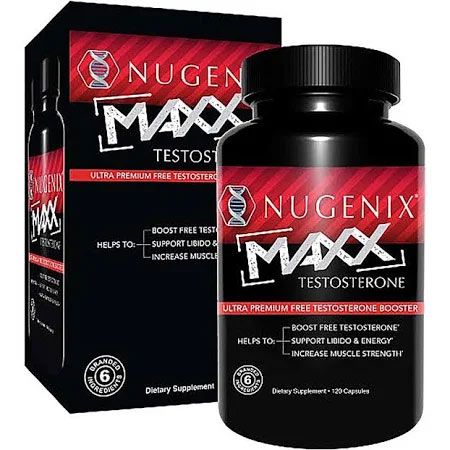 Cons
Doesn't contain key T boosting ingredients: D-Aspartic Acid and Mucuna pruriens
There's less Fenugreek that regular Nugenix
It's expensive
Benefits
Distributed by Direct Digital, LLC, Nugenix Maxx isn't necessarily only for younger men. It depends on the individual's physiology and circumstances. After checking with your doctor and given the all-clear, you should have an idea what this product can and can't do for you. The benefits may include:
Increased libido and energy
Maximized free testosterone
Increased muscle strength
Enhanced recovery
Controlled stress levels
Side Effects
Most of the reviews associated with Nugenix Maxx are positive, with a low occurrence of negative side effects, however this product does come with a warning stating that it's only for men over 18 years of age and that it mustn't be used by women who are pregnant or nursing. Other concerns include:
Stomach issues and light-headedness can occur, so take it with food if this is an issue
Medical conditions such as hormonal imbalances, liver or blood sugar problems might be affected
Taking medications might alter the effectiveness of this supplement
Ingredients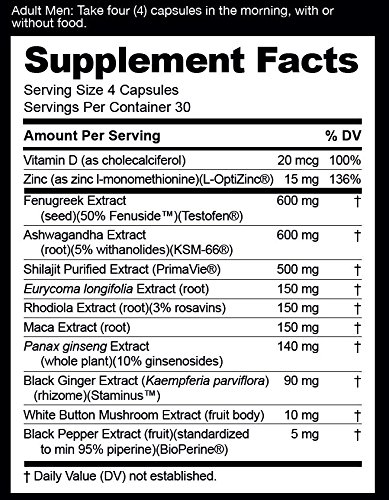 Nugenix Maxx includes herbal extracts, vitamins and minerals that are standardized to their most bio-active properties.
Vitamin D 20 mcg – for boosting testosterone levels
Zinc 15 mg – for testosterone synthesis
Fenugreek Extract (as Testofen) 600 mg – for boosting testosterone and raising free T levels
Ashwagandha Extract (as KSM-66) 600 mg – for increasing testosterone, reducing stress and anxiety
Shilajit Purified Extract (as PrimaVie) 500 mg – for boosting testosterone
Tribulus alatus Extract (as Testafuranol) 250 mg – for boosting testosterone
Eurycoma longifolia Extract 150 mg – enhances vitality and T levels, reduces cortisol levels
Rhodiola Extract 150 mg – improves T levels and strength, reduces cortisol, stress and fatigue
Maca Extract 150 mg – enhances male health
Panax Ginseng Extract 140 mg – may help boost testosterone, good for general health
White Button Mushroom Extract 10 mg – prevents testosterone converting to estrogen
Black Pepper Extract (as Bioperine) 5mg – enhances nutrient absorption and metabolism
Other Ingredients include Gelatin, Maltodextrin, Magnesium stearate and Silicon dioxide.
Recommended Dosage
Take 4 capsules in the morning, with or without food. Stop taking this supplement if you have any adverse reactions and discontinue usage 2 weeks before surgery.
As stated at the start of this review, Nugenix Maxx may be more suitable for younger men who might not need as much of a testosterone boost, seeing as it's missing D-Aspartic Acid and Mucuna Pruriens Extract, which are considered key ingredients for those wanting to boost T levels. Still, it is one of the better products out there so try it out for yourself.
Where to Buy Nugenix Maxx
You can buy Nugenix Maxx on Amazon, at GNC, at at a number of other local or international supplement stores. It's not a bad idea to shop around and see where you can get the best price.