The main culprits in the downward spiral that is known as Low T include a reduction in sexual prowess, depleted strength and weight gain. There's no wonder that self-esteem takes a beating when this begins to happen and it makes sense for those with Low T and men who want to improve performance to turn to supplements, like P6 Extreme.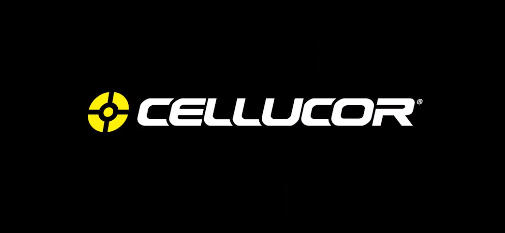 Produced by Cellucor, this product is said to be a 3-in-1 testosterone booster, formulated to work in unison with your body's natural production of hormones. Made with ingredients that promote testosterone and block estrogen, P6 Extreme offers many other benefits, discussed below. We'll also go over some of the cons that people have reported with this product. It's always important to balance the pros and the cons in order to make an informed decision. Some of the pros might carry more weight to you than other ones do, and the same goes for the cons. A deal-breaker for one person might not be a big deal to another person, but the key is learning as much as you can and then going from there.
Pros
Contains a complex blend of natural ingredients
Comes with a 30-day money back guarantee
User-friendly website
Claims to be a 3-in-1 T boosting supplement
Cons
Most reviews give it an average rating
Too expensive
Takes a while to show results
Not a ton of clinical evidence to back ingredients
Contains a proprietary blend, making it difficult to assess dosage
It's worth noting that 'average' isn't necessarily bad. Genuine average ratings are more valuable than a bunch of inflated positive reviews that aren't genuine. Having said that, there are more highly-reviewed Low T supplements out there, with better ingredients in some cases, that cost less in some cases – so make sure you take a look at all of the different supplements we've featured on this site. That doesn't mean P6 Extreme might not be the best choice for you, it just means explore options, and don't be afraid to try more than one supplement (But you should start with just one low T supp at a time, instead of stacking them.)
Benefits of P6 Extreme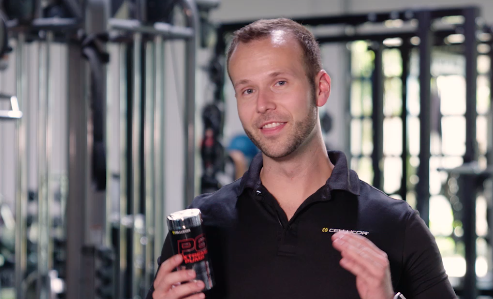 P6 Extreme is said to be a 3-in-1 supplement that boosts testosterone, prevents the conversion of testosterone into estrogen and reduces the conversion of testosterone into DHT to ensure sufficient amounts for the body to use. Made from natural herbal ingredients, this product encourages the body to release more testosterone at a faster rate.
It can also:
Build lean muscle mass
Increase endurance and energy
Enhance the libido
Encourage more frequent and longer lasting erections
Increase strength
Improve focus and mood
Regulate estrogen
Assist in weight loss and fat burning
Side Effects
While there are no reports that we were able to find of users having severe side effects while using P6 Extreme, there have been some reviews that state reactions such as:
Increased Irritability
Acne on the back (called "backne")
Strange dreams
Hair loss or alternatively – an increase in body and facial hair for women
Mood changes
Numbness or tingling skin
Headaches, anxiety or depression
Excessive Sweating and dry mouth
Increased Flatulence
Dandruff
Possibility of an increase in mammary size
These are reported anecdotally by people who have tried the product, so it's possible that the supplement itself isn't responsible for all of these reported side-effects, however it's a good idea to pay attention to your body whenever you're making any kind of a change like this. Listen to what your body tells you, and if you react negatively to any supplement ever, you should considering ceasing to take it, and in some cases visiting your doctor as necessary, depending on the severity of the side-effects.
Ingredients
P6 Extreme Proprietary Blend 1,114 mg:
Adaptest Ashwagandha root extract – improves T levels, reduces stress and cortisol levels
Ovine Placenta Powder – promotes balanced production and release of testosterone
Agaricus bisporus fruit extract – prevents testosterone conversion to estrogen
Saw Palmetto fruit extract – for improving prostate health
Wild Yam root extract – blocks the body from absorbing cholesterol
Stinging Nettle root extract – promotes growth and increases free testosterone levels
Myrica Rubra bark extract – has anti-inflammatory and antibacterial properties
Clary Sage extract – enhances testosterone production, increases energy and maintains lean muscle mass
Tribulus alatus fruit extract 250 mg – supports testosterone production
Other Ingredients include Capsule Shell (Gelatin, Titanium Dioxide, FD&C Blue #1 and Red #40), Magnesium Stearate, Silica and Milk.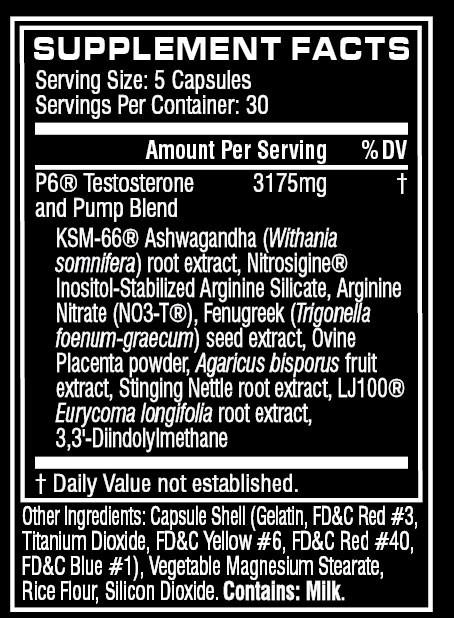 Recommended Dosage
Take 4 capsules per day with breakfast or lunch. Do not exceed 4 capsules per day. If you're taking this supplement as part of a healthy diet and exercise program, use it for 8 weeks with a 4 week break before starting again. Don't use this product if you're under 18 years of age or if you're a woman, especially if you're pregnant or nursing. Check with your doctor before taking P6 Extreme and stop taking it 2 weeks prior to surgery.
Like other P6 products, P6 Extreme is not overloaded with ingredients, even though it does contain a proprietary blend. While some of the reviews are average, it does have some positive ones and as usual, it all depends on the individual and what you put into it. If you're someone who's serious about getting the most out of a healthy diet and exercise regime, this supplement might work for you.
Does it Work?
It comes  down to your body, ensure you're taking it correctly, and also using it as a SUPPLEMENT for diet and exercise. This supplement alone, regardless of what anyone says, can be a useful addition to your workout routine, but if you aren't doing anything else –  you probably won't notice much of a difference from it. People have reported getting a significant boost from it in the gym, but if you're suffering from Low-T, it's a good idea to see a doctor in case there's a more seriously underlying reason for that which needs to be addressed.
Where to buy P6 Extreme & Price
You can find it most reliable on Cellucor's website. Stores like GNC and Amazon will carry various products from the P6 lineup, including  the original and some other variations, but they don't always have Extreme in stock. It's worth checking, but   you might be best off just getting it right from Cellucor themselves.
It's certainly not cheap, coming in at $99 per bottle. A bottle has 150 capsules in it, but each serving requires 5, so this is a one monthly supple, meaning it costs about $3 per day to take this supplement on an on-going basis.