Many factors affect falling testosterone levels, such as aging, health and genetics.
Even environmental elements can negate T levels, along with stress and other psychological issues.
Finding a supplement that includes an all-inclusive formula to turn back the clock sounds too good to be true, but Cellucor's P6 Original claims this and more.
After 15 years this company has provided some of the world's best sports nutrition products and they advise that P6 will not only boost your testosterone levels but also enhance virility, encourage lean muscle mass and increase strength.
Read on to see what else this supplement could do for you.
Pros
Here are the PROS of P6, the positive reasons that people take it and things that are often echoed in the various P6 reviews you'll come across.
Contains ingredients said to enhance the libido
Can help with muscle mass
Contains Ashwagandha which reduces cortisol and stress
Has some favorable reviews
Made with all-natural ingredients
Made by a reputable company
As we'll discuss later, your results may vary, everyone is different so these pros may be more pronounced for you than others, or vice-versa.
The same applies to the cons, too. Some of them may be deal-breakers for you, but others might not be a huge deal one way or the other.
That's all a part of the process of shopping for the right testosterone boosting supplement. It's all about finding one with the pros that matter the most to you, with the least amount of cons.
Cons
Here are some of the downsides to keep in mind when shopping for a test booster.
These are the most common reasons that people have for choosing something else instead of P6.
Contains a proprietary blend so it's hard to assess dosages
There are some reported side effects
Poor serving schedule
Can be expensive
Benefits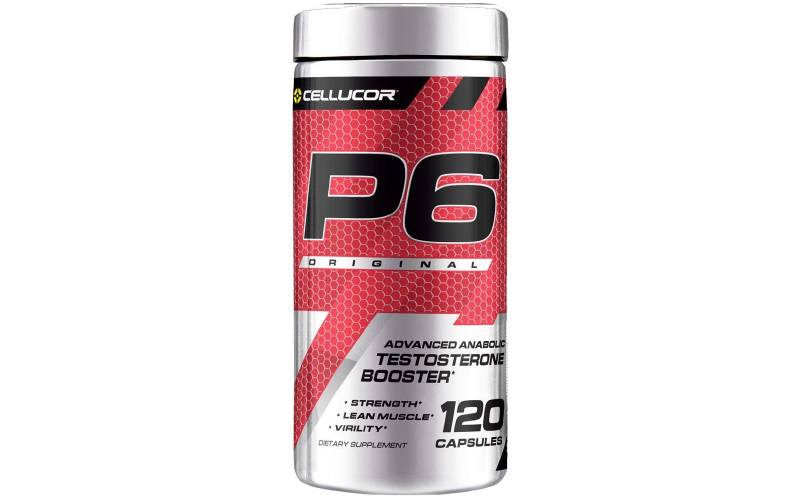 P6 Original is said to contain scientifically proven ingredients in a formula that is designed to naturally boost testosterone levels in a safe and effective way.
Stating that this product is a 3-in-1 "ergogenic" T booster with actions affecting not only testosterone but libido and lean muscle, P6 can also help with:
Modulating estrogen
Supporting male virility
Suppressing the appetite
Increasing the metabolism
Enhancing strength
Increasing sperm production
Supporting urinary health and the prostate
Side Effects
Since none of the P6 blends have been used in clinical trials, these side effects have been reported by customers:
Acne
Dizziness and jitters
Increased aggression
Difficulty with maintaining focus
Nausea and upset stomach
If you experience any of these, then it's a good idea to stop taking it.
You could be having an adverse reaction to one of the ingredients, and should try a different supplement instead, or consider just trying to tweak your diet to get more of the nutrients you need.
The severity and the frequency can vary from person to person, but you don't want to take something that's making you feel negative, get acne, etc…
Having said that, most people don't experience those negative side effects but they're still worth keeping in mind in case you start to experience any signs of them.
Ingredients
Here's the list of ingredients in the original P6
Proprietary Blend: P6 Testosterone and Performance Blend 1,050 mg –
KSM-66 Ashwagandha root extract – for improving testosterone levels and recovery, lowering cortisol and stress
Fenugreek seed extract – helps control blood sugar, can increase strength and overall health
Ovine Placenta powder – for muscle growth, boosting collagen production and inhibiting HCG
Agaricus bisporus fruit extract – for reducing fatigue and helping recovery
Stinging Nettle root extract – for supporting urinary and prostate health
LJ100 Eurycoma longifolia root extract – increases energy, T levels and maintains the anabolic state
Diindolylmethane – supports free testosterone
Other ingredients include Capsule Shell (Gelatin, Titanium Dioxide, FD&C Red #40 and Blue #1), Rice Flour, Vegetable Magnesium Stearate, Silicon Dioxide and Milk.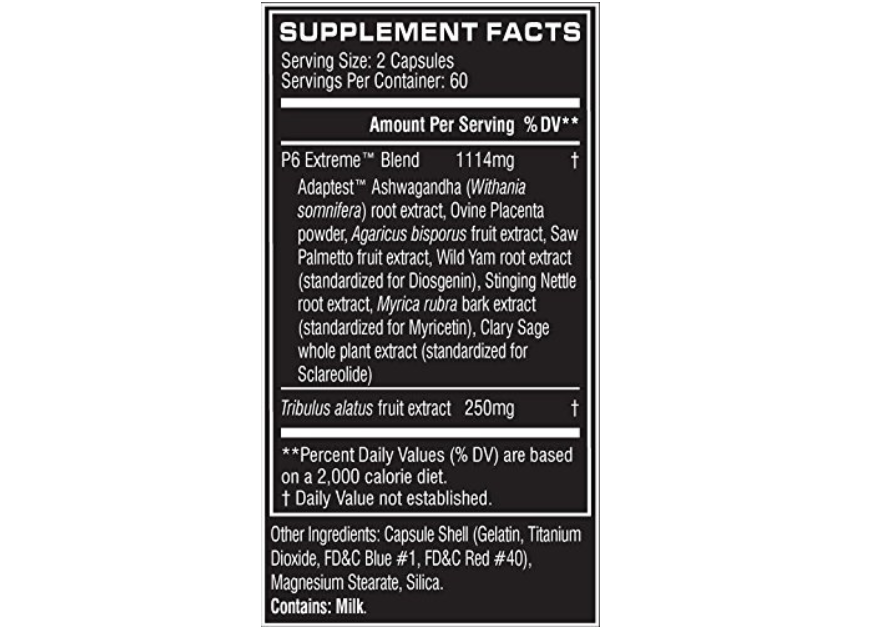 As we mentioned briefly a few moments ago, it's too bad that they're going the proprietary blend out.
It's something we see often enough in the world of supplements, and we always give praise to companies that don't do it.
The proprietary blend phrasing allows them to avoid giving out the exact qualities of certain ingredients under the guise of being a competitive advantage, however there are only so many substances that are known to help with testosterone production, so there's really no need to be secretive about them, it's not like other supplement companies are clueless on what's included.
All it does is obscure and confuse shoppers, or it gives companies a way to include less of the most effective and expensive ingredients, so they can save a bit of cash and not have to reveal that they're doing so.
It's not the worst thing in the world, and it's not automatically a bad thing, but generally speaking – we want to see the full ingredient lists without anything hiding behind "proprietary blend".
Recommended Dosage
The recommended dosage is to take 2 capsules in the morning and 2 capsules before you go to bed, with or without food. Do not take more than 4 capsules per day.
For best results, take P6 Original along with a resistance training program. This product is not to be taken by men under 18 years of age or women, especially if breastfeeding or pregnant.
Always check with your doctor before taking supplements and discontinue taking this product 2 weeks prior to surgery.
P6 Original is a formula based on a proprietary blend which contains a couple of odd ingredients, but there are some positive reviews out there and at least it's not bogged down with so many ingredients that you get bored halfway down the list.
Check it out after speaking with your doctor if you think it could work for you.
Where to Buy P6 and Price
You can buy P6 on Cellucor's official online store, at GNC, and even on Amazon. It's not one of the cheaper supplements out there, but it does come with a lot of capsules in the bottle.
One thing to compare beyond just looking at the price is to look at the price per service, since some supplements will have 1-2 capsules per serving, others will have 3-4, and that can have a big impact on how cheap or how expensive a particular supplement seems.