It's disconcerting dealing with Low T, especially when society places so much emphasis on the importance of being manly. Age is only one contributing factor and it makes sense to continue eating healthy foods and staying mobile, but what if you're already doing everything you can and still feel the effects?
Released in 2015, Performix Super Male T is made in the U.S. and distributed by Performix LLC, which is based in Denver, CO. This is one of the newer supplements which claims that it can help promote the production of healthy testosterone along with other benefits, so let's take a closer look and see what this product has to offer.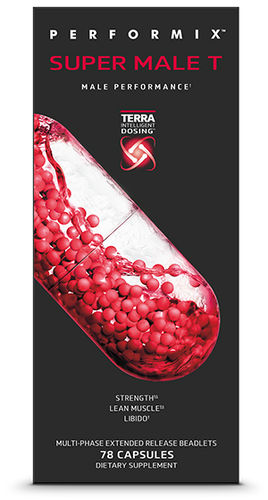 Pros
Contains all-natural ingredients
Packaging is impressive
Some users report increased hardness
Naturally boosts testosterone
Can boost energy for intense workouts
Can enhance blood flow and improve the libido
Cons
It's expensive
Some say it's not effective
Contains a proprietary blend
Some users report no results re: muscle mass, strength and libido
There are apparently no clinical studies to back up the benefits
Sporadic, negative and odd reviews
Unimpressive formula
Benefits
Performix Super Male T advises that their blend of 10 cutting edge ingredients and "Terra intelligent dosing" is designed for males over the age of 18, for promoting healthy testosterone levels, increased libido and lean muscle growth, while optimizing free testosterone and endurance when used in conjunction with working out on a regular basis. Including natural ingredients and proprietary blends, they also claim to be able to:
Activate testosterone production
Optimize free testosterone
Increase muscle strength and sexual performance
Elevate workout and training intensity
This supplement is said to be unique, offering a Performix Terra Bead Multi-Coating Matrix, dispersion coating and a hydrophilic coat, which means that each capsule is formulated for extended and delayed release to increase the functionality of each ingredient.
Side Effects
Although some reviewers report that this supplement has zero side effects, other have indicated:
Nausea, vomiting and/or excessive thirst
Nosebleeds
Abnormal heart beats and arrhythmia
Insomnia
Fatigue
Weight gain
A range of allergic reactions
Ingredients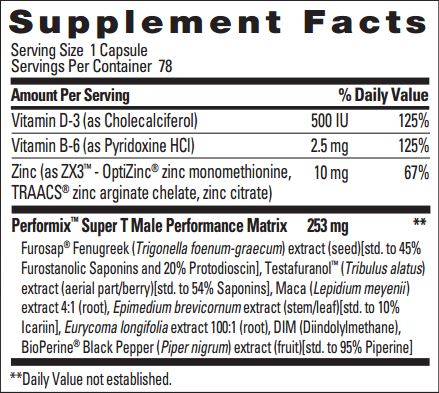 Vitamin D3 37.5 mcg – can enhance testosterone production and help with bone strength
Vitamin B6 7.5 mg – boosts the metabolism and enhances sexual arousal
Zinc (ZX3) 30 mg – helps the immune system and improves testosterone levels
The Performix Super Male T Performance Matrix blend (759 mg) includes:
Furosap Fenugreek Seed – an extract marketed by Cepham to improve sperm quality and boost T levels
Testafuranol (from Tribulus Alatus) – boosts luteinizing hormone levels and raises free T levels
Maca Root – boosts the libido and energy levels, balances hormones and lowers blood pressure
Epimedium Brevicornum (Horny Goat weed) – enhances T production and helps with erectile dysfunction
Eurycoma Longifolia (Tongkat ali) – elevates T levels, raises free testosterone and treats erectile dysfunction
Diindolylmethane (DIM) – can support hormonal balance
BioPerine Black Pepper – improves absorption of other ingredients and helps with depression
Other ingredients include Sugar, Gelatin, Talc, Povidone, Starch, Pharmaceutical glaze, Maltodextrin, FD&C Red #40 Lake, Yellow #5 Lake, Titanium dioxide, Sodium ascorbate, Triglycerides, Silica and Tocopherols.
Recommended Dosage
Take 3 capsules 30-60 minutes before you go to bed with 8 ounces of water. This supplement works best when used in conjunction with proper diet and exercise and don't take it with dairy products or foods that contain calcium. Stop using this product 2 weeks before surgery.
While Performix Super Male T contains some ingredients that can help with issues pertaining to low testosterone, the jury's out regarding its capacity to boost testosterone levels to a satisfactory degree, at least in comparison to other supplements on the market. It looks high-tech and alluring, so if you're not put off by the side effects, see how it works for you.
Where To Buy
You can find Super Male T by Performix at GNC and a number of other popular supplement stores.