A natural testosterone booster that's produced by RSP Nutrition, Prime T is scientifically formulated to optimize and support your natural serum and free T levels while encouraging fat loss and muscle mass. This product is considered by some users to be one of the best supplements on the market for boosting testosterone.
As with any new change in your diet and exercise regime, it's important to check with your health professional first before taking a new supplement. It makes sense to work with a product to ensure success, rather than taking a pill and expecting it to do all the work for you.
Pros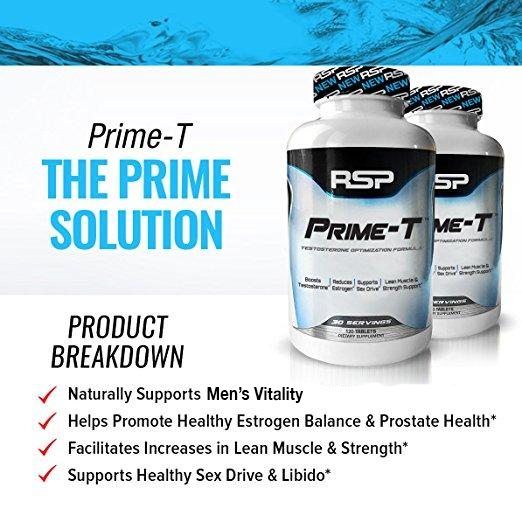 Here are the major reasons that people take this supplement. We'll talk more about what to expect and whether or not this supplement works in a few moments, but for now here are some of the main reasons that people try it out.
Prime T is said to be good value for the money
Gains in strength, stamina and muscle mass
Increased confidence and energy
Good for recovery
Increased sex drive and performance
Cons
No supplement is perfect, so it's important to consider the cons as well. Some of them may matter to you, some of them may not matter as much – it comes down to what you're looking for, what your priorities are, and whether or not any of these are a deal-breaker.
Issues with skin conditions such as acne
An increase in aggression and slight anxiety
Not too good with estrogen control
Spontaneous erections
Benefits
Now, let's take a look at some of the many benefits that come along with improved testosterone production in your body.
Prime T advises that here are 4 key factors involved with this product's actions, including:
The promotion of prostate health and estrogen balance
Supporting serum and free testosterone levels naturally
Increasing strength and lean muscle growth
Supporting a healthy sex drive and increased libido
Along with the above, Prime T can help with increasing reps and weights on bench presses in the gym as well as increasing stamina, so workouts become easier. Recovery is also enhanced so that you're not as sore after a heavy lifting day. For some users, the effects kicked in after 10 – 12 days of using this supplement.
Does it Work?
Taking a supplement to help fill in the blanks when you're already eating well, and training hard, can be a great way to take things to the next level. If you're living a sedentary lifestyle and eating poorly, don't expect this to be some kind of a game-changer, it has to be something that supplements your hard work.
Side Effects of Prime T
Here are some of the side-effects that people have reported after trying this supplement. If you experience these, it's a good idea to stop taking it and thinking about finding a different supplement instead since you likely have some form of allergy or other adverse reaction. These are not common side-effects, and most people who take this supplement will probabally only experience the positive results from it.
Headache
Elevated aggression and short temper
Acne on the back and shoulders
Overblown libido
Ingredients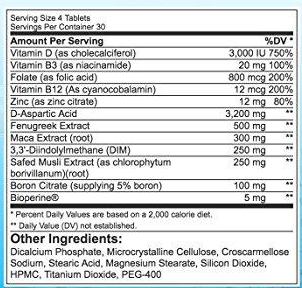 Prime T is not a proprietary blend, so all the ingredient amounts are listed, which makes it easier to assess if you have any medical conditions or concerns about any specific ingredient. Some say that there's an issue with this supplement having limited estrogen blocking support and a low level of DIM.
D Aspartic Acid – 3200 mg:
Regulates testosterone synthesis
Naturally promotes the release of growth hormone and luteinizing, follicle stimulation
Helps with recovery, improved strength and lean muscle gains
Fenugreek – 500 mg:
Supports luteinizing hormone
Stimulates testosterone production and supports free testosterone levels
Supports the reduction of conversion of testosterone to estrogen and DHT
Maca Root Extract – 300 mg:
Potentially increases the libido
May increase male fertility
3,3' Diindolylmethane (DIM) – 250 mg:
Balances estrogen metabolism
Can reduce estrogen potency by inhibiting aromatase enzyme
Safed Musli Extract – 250 mg:
Aphrodisiac and adaptogen actions
Supports immune health
Can increase the sex drive and stamina by boosting testosterone production
Boron Citrate – 100 mg:
May increase free testosterone levels
Reduces circulating estrogen
Helps metabolize calcium, magnesium and phosphorus
Prime T also includes Vitamins B3, B12, D, Folate, Zinc and Bioperine as well as Dicalcium phosphate, Microcrystalline cellulose, Croscarmellose sodium, Stearic acid, Magnesium stearate, Silicon dioxide, HPMC, Titanium dioxide and PEG-400.
Recommended Dosage
Take 4 tablets on an empty stomach 30-60 minutes before bed time. The label advises not to exceed the daily dose and don't take it if you're under 18 years of age or if you're taking medications. As always, consult with your doctor first. The tablets are quite large and some might find them hard to swallow
Prime T is said to be great for men over 40, although it is apparently just as effective for those younger men who want to boost their performance or if they have issues with Low T. If you're looking for increased strength, endurance, recovery and a heightened sex drive, this product could be the one for you.
Where to Buy Prime T & Price
You can get it on Amazon, Bodybuilding.com, and many other places that stock an assortment of supplements. You can also get it from the RSP nutrition website starting at around $20 for 15 servings (half a month).