Although aging and reduced testosterone levels are normal for men, the associated problems can be tiresome and depressing. Low energy, unsatisfactory sexual performance and loss of muscle mass are the main culprits when it comes to a lack in confidence as a man. If you prefer to tackle Low T without too many man-made chemicals, Progene is a natural, Dual-Action supplement loaded with ingredients and formulated to increase testosterone.
With rare herbal extracts and scientifically proven precursors that enhance testosterone production, this product is a daily complex that is said to work on the physical and mental issues related to Low T. Read on to learn more about this supplement.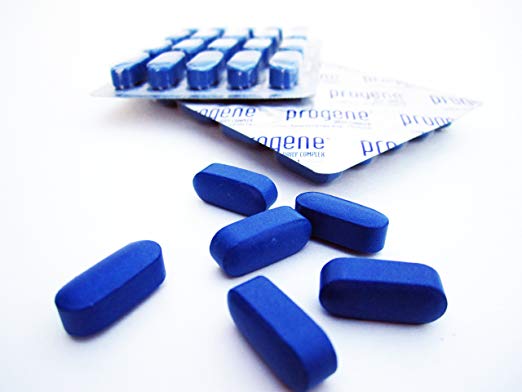 Pros
Proven ingredients are included and listed
Can help with the libido, sperm production and erectile dysfunction
Some reviewers note an increase in energy, muscle mass and strength
May boost the immune system, red blood cell production and cardiovascular health
Can increase the growth of facial hair
Cons
Long term results might only be achieved with continuous usage
Highly priced
DHEA is only available as a prescription in some countries
Results are slow for some
Has a proprietary blend so amounts are hard to assess
Benefits
Some reviewers noted that their metabolism was enhanced with several stating that they felt more hyper than before taking Progene. A shortened arousal time has been reported but this supplement is said to take an average of 3 – 4 weeks before seeing any results, which can include:
Improved circulation
A boost to testosterone levels
Improved erectile function
Progene is also considered to increase the sex drive and to deliver "quality" erections
Does it Work?
That will depend greatly on how your body reacts to it, there are plenty of people who are pleased with the results, but there are also people who it doesn't work great for. The good news is that if Progene doesn't do the trick for you, we've reviewed countless other testosterone boosters and some of them have many happy customers. We always aim to avoid  you avoid the poorer quality supps, so that you're focusing on the ones  that have the best chance of helping you.
Side Effects
There are a few warnings related to Progene, such as a specific one for athletes who compete in professional sports or the NCAA, advising not to use this product. This could be due to the addition of DHEA, which is a hormone produced by the adrenal glands and banned in professional as well as collegiate sports. Other side effects may include:
Acne
Hair loss and alternatively – hair growth on the face
Aggression and irritability
Drowsiness
Headaches, tremors and seizures
Skin rashes
Increased sensitivity to sunlight
Anxiety
If you're experience any negative side-effects, it is a good idea to stop taking it and to try to find a different option instead, or to see a doctor in the case of any more serious side-effects, or just in general if you're having trouble with your testosterone levels.
Ingredients
This stuff has a long, long list of ingredients. The positive is that it's almost like getting more than one supplement in one, since you can find different combinations of the following ingredients included in a number of competing products. On the other had, if you have any allergic reactions to any of these, it could mean you can't take it at all.
L-Arginine 1,000 mg – for increasing circulation and blood flow to the penis
Eurycoma Longifolia 60 mg – increases testosterone, frees bound testosterone, boosts the libido
Dehydroepiandrosterone (DHEA) 50 mg – a precursor to testosterone that also boosts metabolism
Guarana Seed extract 10 mg – enhances athletic performance and reduces fatigue
Proprietary blend includes:
Saw Palmetto Berry – protects against enlargement of the prostate, balances testosterone and increases libido
Damiana – improves the sex drive and aids in depression and weight loss
Sarsaparilla Root – enhances sexual endurance, guards against impotence and increases testosterone
Jamaican Ginger Root – an antioxidant that also improves the sex drive and stamina
Various types of Ginseng – boosts sexual endurance and the libido
Oat Straw Extract – enhances energy and the libido, boosts and frees bound testosterone
Stinging Nettle – an anti-inflammatory that also slows the progression of prostate cancer
Lycopene – a natural aphrodisiac that has antioxidant and anti-inflammatory actions
Mucuna Pruriens Seed – stimulates the libido and increases testosterone, muscle mass and strength
Withania Somnifera Root (Ashwagandha) – increases red blood cell count and sexual performance
Tinospora Cordifolia Leaf – provides energy and pain relief while boosting recovery after working out
Licorice Root – an antioxidant that boosts testosterone and helps regulate blood sugar
Nutmeg – boosts energy and increases the libido
Tribulus Terrestris – improves circulation, virility and increases testosterone production
Eleuthero Root – increases stamina, restores vigor and general health
Muira Puama extract – improves sexual potency, increases testosterone and erectile function
If that list isn't enough to make your head spin, Progene also contains Vitamins A, B6, B12, E, Zinc, Biotin, Thiamin, Riboflavin, Folate, Niacin and Pantothenic acid.
Recommended Dosage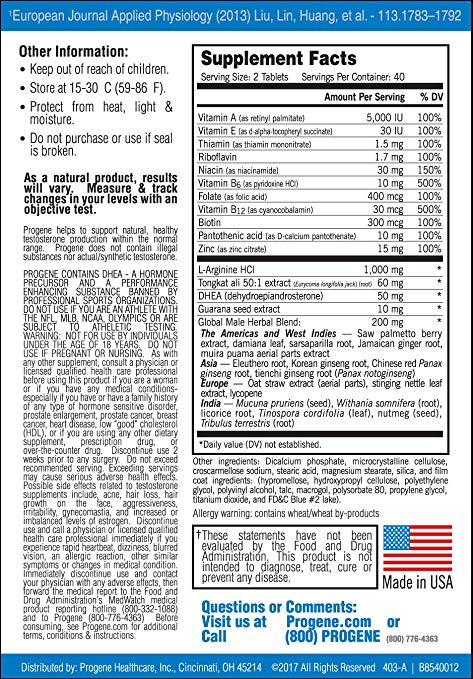 2 caplets per day are taken on a full stomach in the morning. Progene takes up to 4 weeks to kick in, with increases in energy and apparently more interest in sexual activity. The following 4 weeks is said to bring on a faster metabolism rate, shortened arousal time and improved focus. According to the website, you should reach optimal results by the 2 month mark. Do not take this product if you're under 18 years of age.
Progene is packed with so many ingredients, most of them in a proprietary blend, making it difficult to ascertain what components are working. As always, check with your doctor first and remember that no supplement can work as effectively without proper diet and exercise.
Where to Buy
You can find Progene for sale at a number of supplement and health stores, and you can find it directly on Amazon, too.