Green Bracket LLC produces Pronabolin, which is a natural testosterone builder said to contain organic ingredients. With an impact that relies on the support of growth hormones and time release components, this supplement offers a range of different masculine benefits from boosting testosterone to improving sexual performance.
These last 2 elements become a big headache for men after they hit 30, when T levels start to decline, due to the recognition that they don't possess the same level of sexual prowess, endurance and energy. A drop in strength and performance can wreak havoc on confidence and drive, so let's see how this product can turn back the clock.
Pros
Has the capacity to be a multi-functional supplement
Can help with muscle mass and weight loss
May increase overall testosterone levels
Can improve performance and endurance when working out
May assist with improving overall health and nutrient absorption
Contains powerful active ingredients that are clinically proven
Cons
Requires a lot of effort in the gym
Contains too many questionable ingredients
Expensive price tag
Contains potentially dangerous side effects
Not effective for women
Contains a proprietary blend
Benefits
Pronabolin is believed to boost more than testosterone, with claims that it can enhance the libido, strength and stamina, along with actions such as:
Maximizing muscle mass
Improving memory
Increasing energy levels
Reducing fat content
Boosting the metabolism
Side Effects
Although this supplement claims to have no side effects, some have been reported and it all depends on your own physiological status, what medications you're taking and how your body processes certain ingredients. Allergies could be another issue and some users state that they've experienced:
Nausea and stomach pains
Issues related to kidney functioning
Feeling "weird"
Blood sugar fluctuations
Ingredients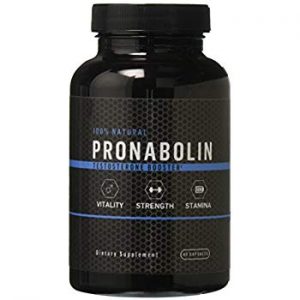 Tribulus Terrestris 650 mg – for boosting the libido, increasing the quality and production of sperm
Fenugreek seed extract 300 mg – boosts athletic performance and endurance, helps with erectile dysfunction
Coleus Forskohlii 125 mg – boost metabolism, improves erectile function and assists with weight loss
Milk Thistle 120 mg – protects the liver and helps with overall health
Alpha Lipoic acid 100 mg– supports metabolism, increases thyroxin levels for weight loss
Eurycoma longifolia extract 100 mg – increases testosterone levels and reduces belly fat
Horny Goat Weed 100 mg – deals with joint pain, boosts the libido, improves sexual performance and memory
Black Pepper extract 15 mg – helps with absorption and aids in digestion
Digestive Proteolytic Blend 250 mg:
This proprietary blend is said to improve digestive performance by adding healthy bacteria to the gut, helping the digestive system work at optimum levels, which in turns assists with the absorption of active ingredients. This blend contains the following:
Protease (3,0/4,5/AM/Neutral Bacteria) – Digestive enzymes
Peptidase – breaks down peptides into amino acids
Papain – a protein-digesting enzyme
Other ingredients include Vegetable cellulose, Magnesium stearate and Silicon dioxide.
Recommended Dosage
Take 3 capsules once a day.
Remember that Pronabolin works best when combined with high level workouts and a healthy diet, which goes the same for most supplements. This product has some good reviews and if the side effects are not an issue, then see how it works for you, after consulting with your doctor.
Where to Buy
You can get Pronabolin at Amazon and at a number of other reputable supplement shops and online stores. If you can't find it locally, just order it online, it may take a few days longer but you won't have to go on a wild goose chase all around town.