When faced with issues related to Low T, one of the main problems is dealing with elevated estrogen. Testosterone levels affect the ability to build muscle mass, bone density and maintaining a good sex drive. Health problems such as heart disease and prostate cancer also become a concern, which is why many men turn to supplements as they age.
T Bomb advises that it could have the answers all packed into a neat little bottle, so read on and see for yourself.
Pros
Contains ingredients that are known to boost the libido
The daily dosage is effective as there's more than one serving
Cons
Tribulus is thought to contribute to an enlarged prostate
Too much flaxseed is believed to increase estrogen and can cause "man boobs"
Important T boosting ingredients are missing, like D-AA and D3
It includes proprietary blends, making assessment of ingredients difficult
Benefits
T Bomb is said to increase muscle mass, boost free testosterone and enhance strength with a 5 Phase Hormone Optimizing Complex that supports already existing healthy testosterone levels. The libido is also enhanced with the inclusion of all-natural herbal ingredients. The formula is said to be scientifically proven to increase testosterone levels by up to 32% in 6 weeks, without increasing estrogen.
This supplement is believed to block estrogen receptors, which enhances muscle building and overall male performance and health. Supporting healthy testosterone levels that are already within a normal range is another benefit offered by this product along with the ability to enhance mood, mental clarity and confidence.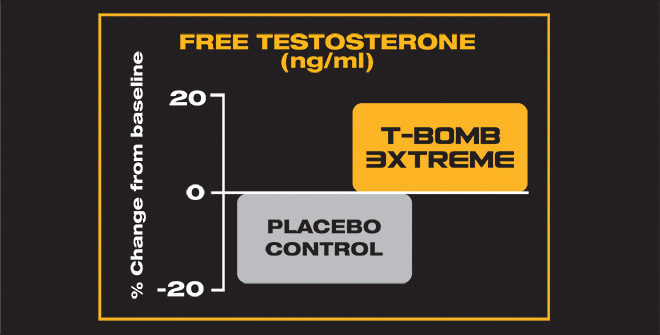 Side Effects
The fact that there are a lot of ingredients used to make T Bomb, many of which are included in a proprietary blend – making it difficult to properly assess – side effects could vary depending on your individual health and whether you're taking medication. Also, make sure you read  the ingredient list to make sure you aren't allergic to anything. Some concerns could include:
Enlarged prostate, due to the addition of Tribulus
Man boobs, brought on by increased estrogen that could be attributed to Flaxseed
Vomiting, if you're extra sensitive to zinc
Make sure you check with your doctor first, especially if you are taking medication and/or have one of the following conditions:
Heart disease
Diabetes
Prostate hypertrophy
Hormonal problems
Psychological disorders
They also advise that this product is not suitable for women or males under the age of 18.
Does it Work?
Supplements will vary in how effective they really are, some are much more so than others. Most of the testosterone boosters we've reviewed, and there have been very many of them, have ingredients that come from the same overall pool, in different amounts and combinations. With as many as you'll find in T Bomb, it's kind of like they're carpet bombing in an attempt to find the combo  that'll work for the most people out there, but more ingredients isn't necessarily better.
A big reason that people are disappointed with supplements like this is that their expectations aren't realistic. This could be due to the way the supplement is marketed, or sometimes people just expert huge results without putting in the effort. In any case, it's important to remember that no supplement on its own is going to  get you there – it takes a lot of hard work, but finding the supplement that works for you can definitely help make that work more effective.
Ingredients
Zinc 25 mg – helps with free testosterone production and prevents it from converting to estrogen
Magnesium 15 mg – also helps with free testosterone and makes you more relaxed
Copper 2mg – to counteract zinc's ability to decrease copper levels
The Proprietary blend includes:
Tribulus – raises testosterone but bad for the prostate
Fenugreek – stabilizes T levels and boosts the libido
LongJack – boosts the sex drive
Stinging Nettle Root – for lowering estrogen, inflammation in the joints and prostate health
Saw Palmetto – improves prostate health
Flaxseed – can increase estrogen so maybe not a good inclusion
Cordyceps – maintains healthy testosterone levels
Other ingredients include Red Clover extract, Kudzu root, Chrysin, DIM, Avena Sativa, Bioperine, Linoleic acid, Stearic acid, Glycine, Magnesium oxide, L-Arginine, Dipotassium phosphate, DI Malic acid, L-Methionine, Nicotinamide Adenine Dinucleotide, Microcrystalline Cellulose, White Film Coat Ingredients (Polyvinyl Alcohol, Titanium Dioxide, Polyethylene Glycol, Talc), Croscarmellose Sodium, Magnesium stearate and silica.
Here's the ingredient list for T Bomb Extreme: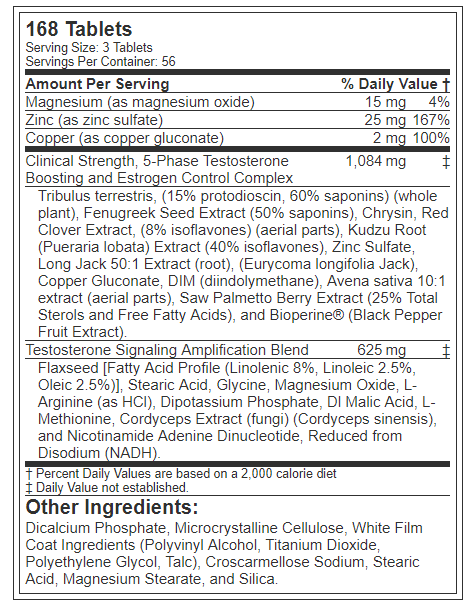 Recommended Dosage
Take 3 tablets in the morning and 3 at night, with 8 oz of water.
T Bomb is loaded with ingredients and apart from the one that could be harmful for the prostate (Tribulus) it could be a great supplement, taking into consideration that the manufacturers have included ingredients to support prostate health, but as always, check with your doctor first.
Where to buy T Bomb
You can find it at Amazon, Bodybuilding.com, and in a number of other stores that sell supplements.