Nature's Plus offers T Male for men with Low T or those wishing to boost strength and performance. Claiming that this supplement is revolutionary in the way it supports healthy and natural testosterone production, they advise that the inclusion of powerful ingredients helps with revitalizing T levels among other great benefits.
It's easy to be confused when it comes to searching for the right supplement. Various issues related to Low T can lead you in many directions, depending on whether it's your libido concerning you or if your energy levels are getting lower by the month. Let's take a closer look at T Male and see what all the fuss is about.
Pros
Here are some of  the pros, the positive reasons  that people have for giving positive T Male reviews after taking this supplement:
Can improve the duration of an erection and intercourse
Might improve performance and endurance
Does contain some good ingredients
It's affordable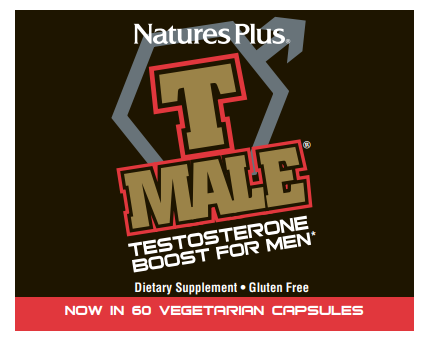 Cons
Here are some of the cons, the negative aspects of this testosterone booster or some of the bad experiences people have reported:
They don't offer free trials
Contains a proprietary blend
Serving schedule is poor
There's no clinical evidence to back up their claims
Some ingredients are not effective and some key ingredients are missing
Benefits
Here's a quick laundry list of some of the reported benefits of taking T Male by Natures Plus. Please remember that not everyone reacts the same  to supplements, and if some of the claims that supplement companies are making on their websites seem over the top and uncredible, it's never a bad idea to dig in deeper. We always prefer to set realistic expectations so that everyone is able to get the most out of their experience.
Made from natural ingredients, T Male is said to be beneficial for men of all ages. While boosting the overall amount of testosterone, it can also:
Enhance cognition and focus
Improve sexual performance
Support healthy testosterone production
Boost energy and endurance
Increase strength and muscle mass
Help with erectile dysfunction
Side Effects
Since the ingredients included in this supplement are natural, there are no serious side effects reported, although some users have advised that high blood pressure and headaches could be a problem. As always, check with your doctor before taking any supplements, especially if you're taking other medications or have a medical condition.
Be especially sure to check with your doctor before taking T Male, as it contains Phenylalanine, which can cause brain damage, seizures and other problems if you have a medical condition called PKU.
Ingredients
Here's a look at the supplement facts sheet and a breakdown of the ingredients of T Male and what they're cited as being used for, along with the quantity that is in each dose.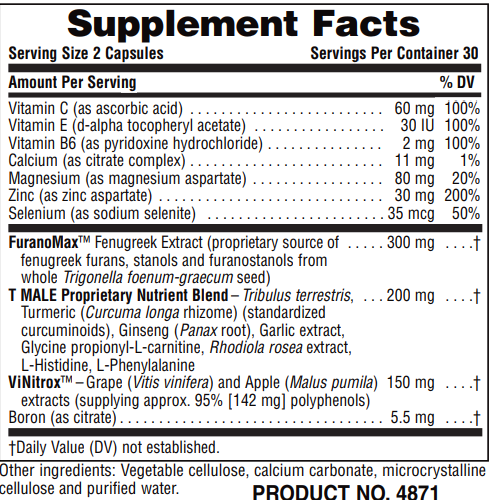 Vitamin C 60 mg – boosts the immune system and increases blood flow
Vitamin E 30 IU – acts as an antioxidant and can boost testosterone
Vitamin B6 2 mg – reduces estrogen levels and increases free testosterone
Calcium 11 mg – strengthens bones and can help with T levels
Magnesium 80 mg – helps free testosterone levels and increases anabolic potency
Zinc 30 mg – increases testosterone production
Selenium 35 mcg – helps the metabolism and improves the quality of sperm
Fenugreek extract (as FuranoMax) 300 mg – increases the libido and regulates blood sugar
Boron 5.5 mg – boosts T levels, reduces estrogen and helps with prostate health
T Male Proprietary Nutrient Blend 200 mg:
Tribulus terrestris – can increase the libido and T levels
Turmeric – contains antioxidants and acts as an anti-inflammatory
Ginseng (Panax root) – helps to increase the libido, blood flow, and general health
Glycine Propionyl-L-carnitine – treats poor circulation and can help with erectile dysfunction
Rhodiola Rosea Extract – boosts mood and energy levels
L-Histidine – helps boost the metabolism
L-Phenylalanine – boosts dopamine levels
ViNitrox 150 mg – grape and apple extracts for antioxidants and increased blood flow
Other Ingredients include Vegetable cellulose, calcium carbonate, microcrystalline cellulose and purified water.
We've often discussed the problem with proprietary blends, namely the fact that it's typically a way to obscure what's in the supplement, or at least the quantities in which those ingredients appear. Sometimes, this is a sneaky way for supplement companies to be able to include things on their label, but in such small quantities that it doesn't even make it difference. This can make it difficult to compare different supplements, especially with some of the eclectic blends that different test boosters have.
Having a proprietary blend isn't necessarily a sign of any sneakiness or otherwise unfriendly behavior towards the consumer, but it's still less than ideal.
Recommended Dosage
Take 2 capsules daily for maintaining levels or twice daily on days when you are working out.
Some reviewers say that you can't get what your body needs to gain the results T Male claims it can offer over a 24-hour period, although it all depends on individual factors, like physiology and diet/exercise regimes. You can also get this supplement in liquid form, so if you think it could work for you, check it out.
Where to Buy T Male
You can find T Male at Amazon, and number of different vitamin and supplement shops. If you're looking for it online, that's easy. If you're thinking of visiting a local shop to see if they have it, it's not a bad idea to call first as stock will often vary.