When you're putting in work at the gym, there's only a finite amount of reps you can do, there's only so much time you can spend there, and there's only so much energy you'll have for those squats, deadlifts, bench presses, and everything else you do.
Because of those limitations, you want to make sure you're getting the most efficient workout possible. That means being able to push yourself, and not letting your body chemistry hold you back from making the massive gains that you deserve.
When it comes to building muscle, losing extra fat, feeling energetic and motivated in all areas of life, there's one thing that's absolutely certain: Testosterone is KING.
Testosterone is responsible for so many aspects of masculinity, but some guys are simply lacking the amounts necessary to fully hit peak performance. You don't have to be born with freakish Brock Lesner genetics to make the most out of your workouts, and you also don't have to take any risks wish expensive roids.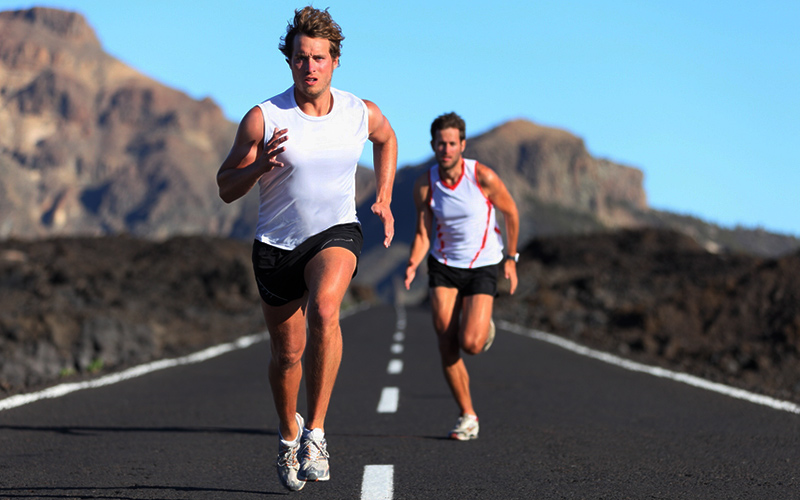 There are a number of natural testosterone boosting supplements that have clinically proven ingredients and can help ensure that your workouts are as effective as they can possibly be.
Test Freak is a hybrid pro-testosterone stimulating compound made up of natural ingredients in strong enough doses to make a difference.
We've seen plenty of supplements who advertise all these great, expensive ingredients but only give you such a small amount that it might as well not even be there, so we'll be taking a more in-depth look at Test Freak, what makes it different than some of the other options out there, whether or not it even works, what's in it, and more.
We've worked hard to make sure this is the very best out of all the Test Freak reviews out there. Unlike some sites that are created strictly to promote one specific supplement and they'll rant and rave all day about how amazing it is, we aim to bring you info about ALL of the options out there, including the good ones and the bad ones too, so that you can get great results while avoiding the low quality stuff. Where does Test Freak land on this scale? Let's find out!
PROS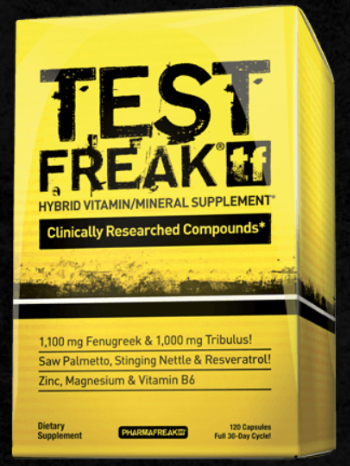 It's rated 7.8 on bodybuilding.com with hundreds of happy reviews.
Users have reported improved energy and motivation after a couple of weeks.
It has also been designed to help with sleep and improving the quality of your sleep, which can lead to all sorts of health benefits as we discover more about the importance of a good sleep.
It can also help out in the bedroom, like most T supplements.
CONS
It's not the best tasting or smelling supplement out there, and you've got to take four pills which isn't ideal for people who have a tough time taking capsules.
While it has some effective ingredients, some of the others aren't as well studied and might fall into the category of 'filler', which is unfortunate since one dosage is already four capsules.
BENEFITS
The benefits of finding a supplement that can help improve your testosterone levels, energy, sleep, motivation and more are self-explanatory.
A lack of testosterone in a man's body can manifest itself in many ways. Usually it's a lethargic feeing physically, but also mental downsides like feeling less confident, less sharp, maybe not sleeping as well.
Not only that, but let's talk about the physical benefits of boosting your t levels. When it comes to building muscle and keeping it, and also improving strength and endurance, testosterone is the key. Everyone who is serious about the gym knows this. That's why some of the world's most popular roids are created to boost things like growth hormone and testosterone. The difference between supplements like this and actual roids is that these supplements work to increase your body's own production of testosterone in natural ways, rather than simply injecting more into yourself. It's a safer, much more affordable route.
RESULTS
You can find lots of reviews on their website and on bodybuilding forms and such.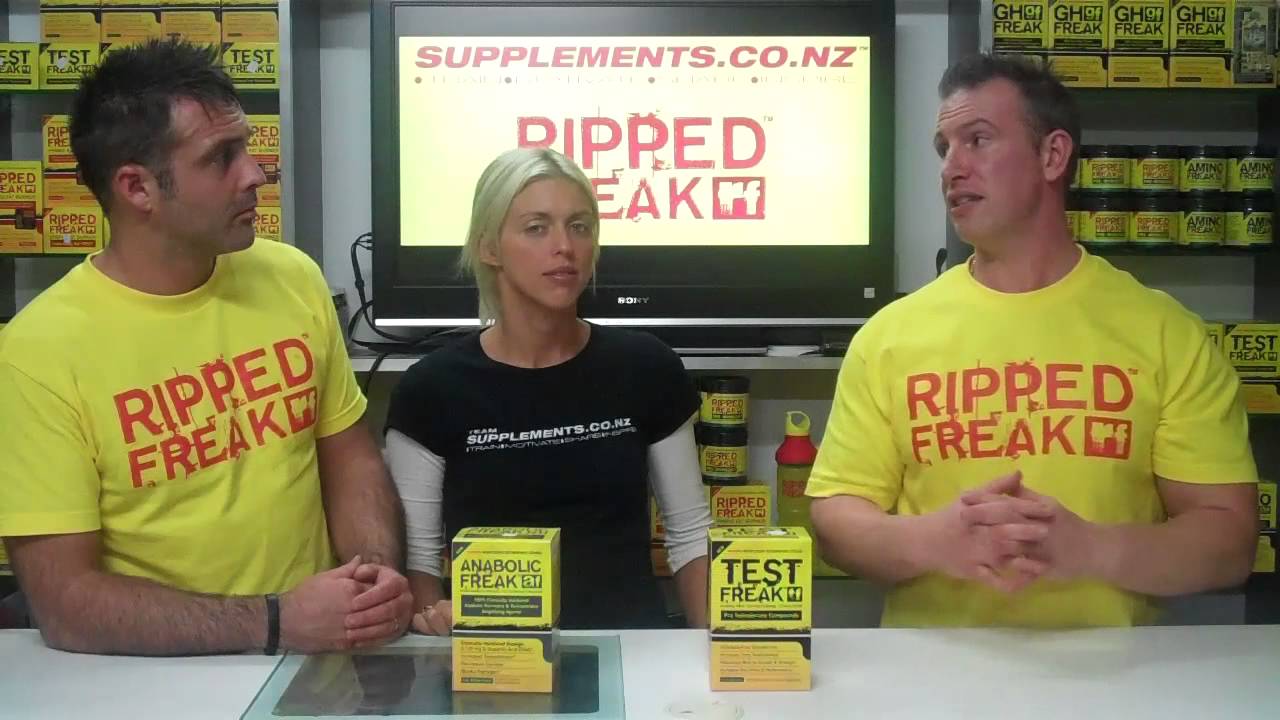 With any before and after results, it's important to remember that your mileage may vary, everyone's body is different, and none of these people are just taking pills without putting in the work.
The whole point of supplements is that they supplement your hard work, including eating right and putting in time at the gym. There's no magic supplement that you're going to take and get crazy results without putting in the work, the point is that the supplements make the work easier and help ensure you're getting maximal results.
SIDE EFFECTS
It's unlikely that most people will experience any negative side effects from taking this. This is where the distinction between natural supplements and roids comes into play again. With roids, there are all sorts of negative side effects because they throw your hormones into a frenzy. With natural options, however, they're simply increasing your own body's natural production, so you aren't going to get crazy over the top side effects.
Also, most of the ingredients in here are simply food. As such, if you are allergic or sensitive to one of the ingredients you could experience minor side-effects, so it's important to read the label and check out the ingredients just to make sure you don't have any allergies or sensitives to any of them.
INGREDIENTS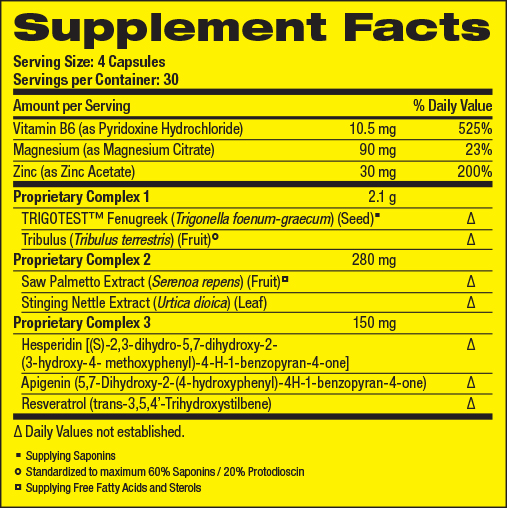 You can look at the whole list of ingredients here, however there's a problem. While they do reveal what's in their proprietary complexes, they don't tell the ratios. We always give extra points to supplements that tell you exactly what's in them without any kind of "proprietary blends", and if they do use their own blends, they let you know exactly what's in it and how much. to Test Freak's credit, they do tell you what's in it, but just not the specific amounts. They do break it down into 3 groups, so that does help give you a better idea, but it's still not ideal.
None the less, there are still plenty of proven ingredients in here. B6, Magnesium, and Zinc are the triple-threat that you see in a lot of testosterone booster supplements, and fenugreek is another good one.
DOSAGE
PharmaFreak, the company that makes this, recommends taking it for an 8 week cycle and then taking a break for 2 weeks, and then continuing with another 8 weeks, and so on.
One dose is 4 capsules, and it's recommended to take it before bedtime and also on an empty stomach. Wait at least 30-60 minutes after eating, but longer would be better in order to help it absorb and process during your sleep cycle.
DOES IT WORK?
How soon you start to notice a difference will depend on your body, but some people have reported feeling more energetic and motivated around the half-way mark of their very first bottle, so within a couple of weeks.
Of course, with anything, everybody is different so you might feel and it and see the difference sooner, or it might take a bit longer.
And we always like to remind people that your results will mostly be influenced by the hard work and effort you put in. Supplements can help ensure that you aren't being held back, but you still need to eat right and train. It comes down to how much benefit you'll see for your hard work, but no matter what, you've still got to put the work in. It's obvious to some people, but we don't want other people to think that just buying a bottle of capsules is going to get you jacked, because that's not how it works.
Still here? Good, let's get some results!
PRICE
The price of Test Freak really depends where you buy it, since the price can vary a lot. It's on Amazon, which seems to be one of the cheaper places to pick it up, and we've seen other sites selling it for almost twice as much. They don't list prices on the official website so it really just depends on what each store decides to charge, but generally speaking if you're looking at something around $50 that's a good price for this stuff, and if you're seeing $80 or $90 that's on the higher end, so don't be afraid to shop around a little.
WHERE TO BUY
You can buy it in a number of different supplement shops and online stores. The company itself doesn't seem to mention any kind of return or refund policy on their website, so make sure you check out the policy of the place you're buying it from. We always like to see supplement companies that strongly stand by their products by offering fair return and refund policies, but unfortunately that's not always the case.
This is a popular product, so you shouldn't have too hard of a time tracking it down either locally or online. The product's website has a location finder but we're not sure how accurate is will be for you. For example, it lists GNC as one of the stores that stock their stuff, but we weren't able to find it on GNC's website.