Developed by Duke Neuroscience graduate Christopher Walker, Testro-X is produced by Truth Nutraceuticals using a 100% all-natural formula which contains ingredients in their most bio-available state, said to be scientifically proven to increase the production of testosterone.
They claim that Walker spent 10 years independently researching men's health and natural testosterone production to create a supplement that also enhances proper hormonal functioning, designed to work with your body's own natural testosterone production. Let's take a closer look.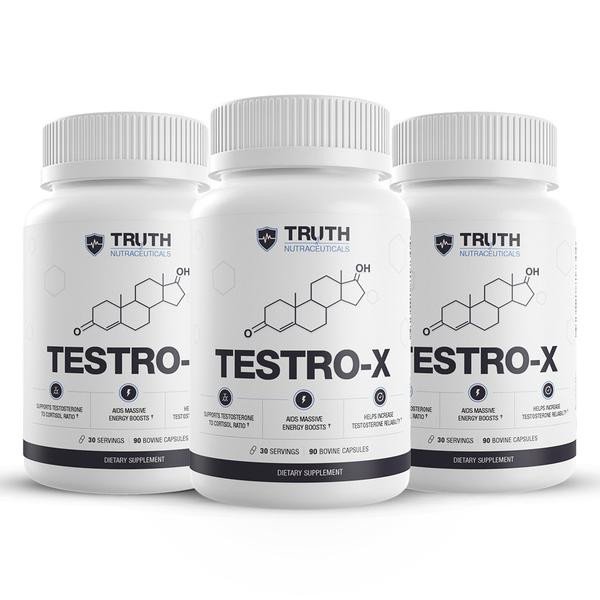 Pros
A non-proprietary blend with 4 ingredients proven to boost testosterone
Improves quality of sleep
Reduces stress levels and lowers cortisol to help with recovery
Comes with a 100% money back guarantee up to 60 days of usage
Seeing such a generous money-back guarantee is always a very positive sign. Some companies don't like to offer any type of refund once a product has been opened, which should always raise some red flags, how are  you supposed to even know if it works for you or not if  you can't even try it first? We always respect when a supplement brand is willing to say, hey, give it a try – if it works for you,  that's great, if not, here's your money back. That's how it should be.
Cons
Serving schedule is thought to be poor by some reviewers
Contains some ineffective and unnecessary ingredients
Lacking some key ingredients that we'll find in other supps
Has mixed reviews overall, even though there are plenty of positive ones
Benefits
The manufacturer of Testro-X advises that this product has no negative side effects, although everyone's body and metabolism is different, depending on their background and circumstances so it's best to check with your doctor before taking it. By dividing the ingredients into three main blends that each have different ways of boosting testosterone, they also include an ingredient to help the body fully absorb these blends, which leads to:
Naturally boosting total and free testosterone production
Boosting energy levels through the day
Supporting muscle growth and enhancing the libido
Encouraging good quality recovery and sleep
Enhancing masculinity and assertiveness
Side Effects
Testro-X contains clean and approved all-natural ingredients, which is why they claim that it's highly unlikely that you will be affected by negative side effects. This claim is apparently backed by the fact that no users have reported any so far, at the time of that claim being made (It's entirely possible that someone could have reported a side-effect since that.)
Does it Work?
Everyone is different, which we always make a point to highlight, so results can certainly vary from supplement to supplement. Unfortunately, we can't just say "This one bottle is the very best supplement and it will work perfectly for every single person." There's always going to be some trial and error as an individual, and from there all you can really do is start with the supplements that have the best chance of working based on what they're meant for, what you're looking for, and whether or not it's a high quality product that has the right ingredients in the correct dosages.
Ingredients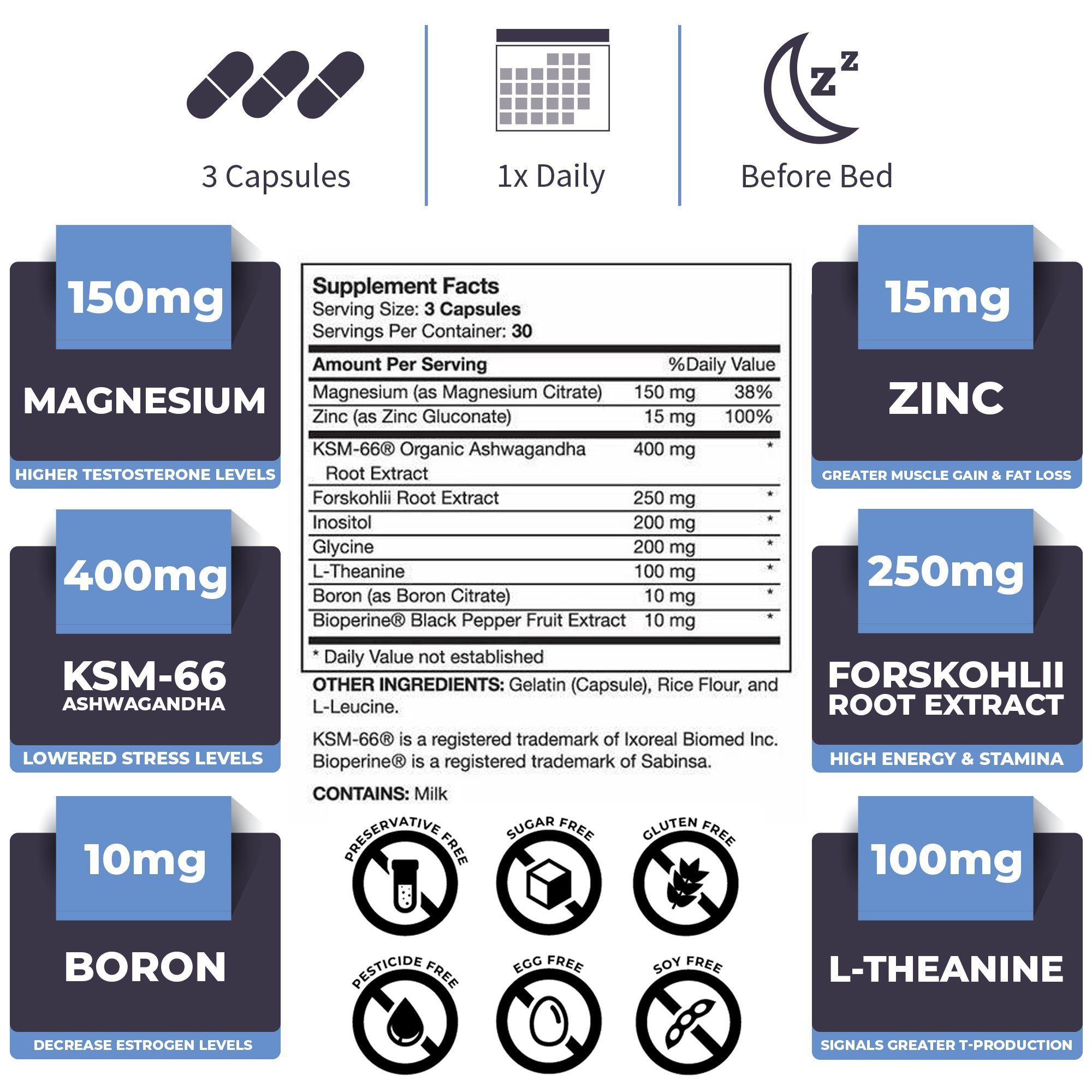 As mentioned above, Testro-X contains 3 blends with specific actions so here we check out what they are and what they do.
The Micronutrient Activation Blend:
Zinc Gluconate 15 mg – for increasing total and free testosterone production, boosting DHT and Luteinizing hormone, protecting the androgen receptor which enhances the effects of testosterone in the body.
Magnesium Citrate 150 mg – for reducing sex-hormone binding globulin which inactivates testosterone, increasing free and total T levels.
Boron Citrate 10 mg – increases free-testosterone by 28%, increases DHT by 10% and reduces estrogen by 39%
The Stress Reduction Blend:
KSM-66 Organic Ashwagandha 400 mg – enhances healing, reduces stress and cortisol levels which increases testosterone levels and improves the quality of sperm.
Forskohlii Root Extract 250 mg – increases healing, energy and testosterone.
The LH Surge Blend:
Inositol 200 mg – a natural precursor of GnRH (Gonadotropin-Release Hormone), signaling its production.
L-theanine 100 mg – triggers GABA neurons in the brain and stimulates the release of GnRH.
L-glycine 200 mg – increases the pulsatile release of GnRH and blocks stress hormones.
To increase absorption of the above blends:
Bioperine Black Pepper Fruit Extract 10 mg
Other ingredients include Gelatin, Rice flour, Milk and L-Leucine.
Recommended Dosage
One serving is 3 capsules per day taken at night, for better sleep and reducing stress. They advise that it's best to only take this supplement during the week and not on the weekends.
Testro-X has reviews where customers state that they can see improvement within 30 days, although the company advises that it's best to take it for at least 60 days for optimal results. The fact that there are no reported side effects is a big plus, so check with your doctor and see if this is a good supplement for your needs.
Where to Get It?
You can buy Testro X  in a number of places  that sell supplements. You can get it directly from the manufacturer's own website, you can find it at Amazon, and elsewhere, too. We've seen it sold for lower prices on Amazon than getting it direct from the company that makes it, so it's not necessarily a bad idea to shop around a bit if you decide you want to try this supplement.