When dealing with Low T and trying to find a supplement that works, it's hard to face all the images of buff men in the middle of extreme workouts, so it's good to know that there are several supplements out there that can be beneficial whether you train like a pro or if you're moderately active. Testrol is a product made from all-natural ingredients formulated to help no matter what level you're at.
Manufactured by GAT, Testrol is said to be a Dual Performance Testosterone Booster formulated to be taken by anyone no matter how old they are. Containing virility enhancers that give you a naturally effective way to increase testosterone, stamina and strength, this product could be one worth checking out. Let's see how it measures up.
Pros
Affordable
Said to be safe for most users
Has a dual focus for muscle gains and libido enhancement
All-natural formula
Non-proprietary blend
Cons
Must be taken daily for maintaining results
Not many serious reviews
Zinc and Magnesium forms could be better
Some say it's not effective
Benefits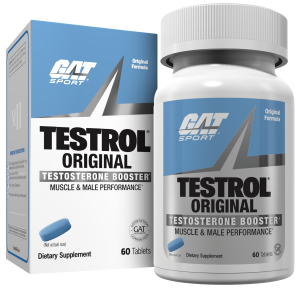 The manufacturers say that Testrol is the "ultimate" dual-purpose male performance product, stacked with male-enhancing ingredients that result in multiple benefits that include enhanced sexual performance.  Other benefits include:
Lean muscle production
Increasing anabolic activity
Boosting and supporting testosterone already in a normal range
Increasing vascularity
Boosting stamina, strength and performance
Side Effects
Although some say Testrol has no side effects, the following could be an issue for some:
Diarrhea or constipation
Headaches and dizziness
Nausea
Enlarged prostate
Ingredients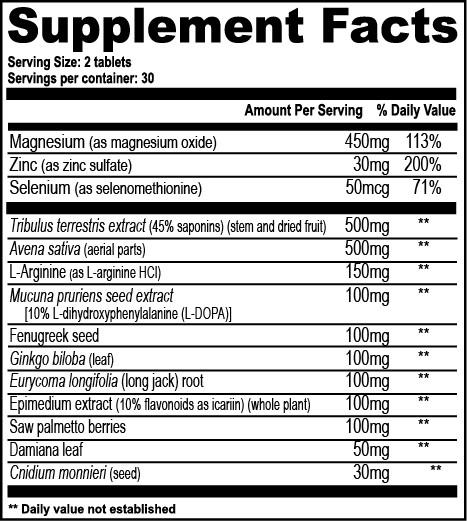 Magnesium 450 mg – increases free testosterone and enhances muscle growth
Zinc 30 mg – synthesizes testosterone
Selenium 50 mcg – promotes male health, prostrate health and improves virility
Tribulus terrestris extract 500 mg – boosts testosterone and the libido
Avena sativa 500 mg – increases the production of testosterone
L-Arginine 150 mg – improves blood flow to the muscles and gives harder erections
Mucuna Pruriens Seed Extract 100 mg – boosts testosterone and quality sperm production
Fenugreek Seed 100 mg – lowers estrogen, frees testosterone and enhances the libido
Ginkgo biloba 100 mg – helps with circulation, focus and muscle building
Eurycoma longifolia root 100 mg – increases the libido, boosts testosterone and reduces stress
Epimedium extract 100 mg – acts as an aphrodisiac and improves blood flow to the penis
Saw Palmetto berries 100 mg – protects the prostate and boosts testosterone
Damiana leaf 50 mg – lowers estrogen and increases sexual potency
Cnidium monnieri seed 30 mg – enhances the libido
Other Ingredients include Dicalcium Phosphate, Microcrystalline Cellulose, Stearic Acid, Hypromellose, Propylene Glycol, Titanium Dioxide, Polythylene Glycol, FD&C Blue #1 Lake, FD&C Blue #2 Lake, Hydroxypropyl Cellulose, Croscarmellose Sodium, Magnesium Stearate and Silica. This product may also contain wheat.
Recommended Dosage
Take 2 tablets every day on an empty stomach. The manufacturer recommends drinking 2 full glasses of grape or fruit juice within an hour after your workout to enhance insulin activity. Women and men under 18 years of age should not use this product and if you're taking medication or have any medical conditions, check with your doctor first.
Testrol is loaded with natural ingredients said to boost the libido, increase testosterone, build muscle mass, strength and stamina, although some say a few of the ingredients are either unnecessary or unproven. If your doctor gives you the all-clear and you want to try it for yourself, remember to watch for any unwanted side effects.
Where to Buy?
You can buy Testrol on the GAT website (the company that makes it), on Amazon, at GNC, and at a number of other stores that have a good variety of supplements.