TestroVax is a natural dietary supplement formulated by Novex Biotech to support testosterone levels which are already within a normal and healthy range. They advise that it's not for everyone, especially if you're under the age of 30 or a body builder who thinks the product will turn you into a "Superman."
Seeing as testosterone starts to decline after men hit 30, Low T can have devastating effects on performance and confidence when you're used to high levels of energy and libido, especially when you consider that it defines most of what society thinks a man is made of. We delve deeper into this supplement to give you a better idea of what it might be able to do for you.
Pros
Here are some of the positives that come along with this product, and some of the major reasons that people often decide to give it a try. You'll need to weigh the pros and cons, along with everything else, to determine if this supplement will be a good fit for you and your unique needs and goals.
Comes with a money back guarantee
Helps increase energy levels
Many reviewers state that it worked for them
Helps to create and enhance muscle mass
Cons
Contains a proprietary blend, making dosage difficult to assess
Only suitable for those with Low T
Can be expensive
Could have side effects
Benefits
For those dealing with age-related low testosterone, TestroVax may provide optimum results by boosting testosterone naturally, up to 42.1% in 12 days, according to the manufacturer. They advise that they don't rely on unusual or exotic compounds and that this supplement works with your own body (especially athletes and bodybuilders) to produce results by:
Forming lean muscles
Developing muscle mass
Boosting testosterone levels naturally
Intensifying the libido
Increasing energy levels
Helping with weight loss
Gaining focus and drive
Boosting strength and endurance
TestroVax is said to naturally increase your body's endogenous testosterone levels but it does not contain significant estrogen blocking ingredients.
Does it Work?
Many users have written in their TestroVax reviews that they notice a difference in how they feel when taking it. Men in their 40's and 50's have talked about feeling more energetic, and experiencing better results at the gym.
It really depends, though. If you're already producing testosterone at your optimal levels, it's possible you might not notice a lot from this. It's not an anabolic steroid or anything like that, natural test boosters are often a lot milder in their results (and side-effects).
Side Effects
Here are some side-effects that have been reported by some people who have tried this supplement.
Aggression
Insomnia
Nervousness, dizziness and tremors
Headaches and heart palpitations
Like any changes to your diet or exercise regime, it's important to check with your doctor before taking this supplement, especially if you have a medical condition or if you're taking medications. Those with cardiovascular issues such as high blood pressure or those who have suffered a stroke or have diseases or conditions related to depression, anxiety, liver, thyroid, seizure disorders and so on, must see their doctor first. Don't take TestroVax if you are taking an MAO inhibitor.
Ingredients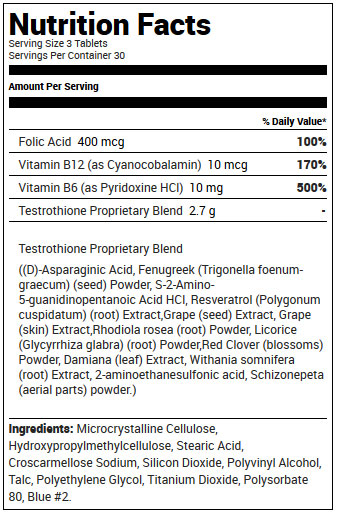 Most of the ingredients in this product are either herbal or natural substances, for stimulating the natural production of testosterone. Their proprietary Blend is Testrothione, which contains a total of 2.7 g of the following:
(D)-Asparaginic Acid – boosts the luteinizing hormone and testosterone levels, for muscle building
Fenugreek Powder – regulates testosterone and enhances the libido
Resveratrol (Polygonum cuspidatum) Extract – building muscle and energy levels
Grape (seed and skin) Extract – an antioxidant that helps with cleansing the body
Rhodiola rosea (root) Extract – enhances endurance by reducing cortisol
Licorice (Glycyrrhiza glabra) Powder – inhibits serum testosterone
Red Clover (blossoms) Powder – apparently beneficial for overall health
Damiana (leaf) Extract – for enhancing the libido
Withania somnifera (root) Extract – works as a relaxant and helps with well-being
Schizonepeta (aerial parts) Powder – an anti-inflammatory
L-arginine – helps with blood flow and boosts the production of nitric oxide
Taurine – increases stamina, decreases cortisol levels and improves recovery
Other ingredients include Folic acid and Vitamins B6, B12, Microcrystalline Cellulose, Hydroxypropyl Methylcellulose, Stearic Acid, Croscarmellose Sodium, Silicon Dioxide, Magnesium Stearate, Polyvinyl Alcohol, Talc, Polyethylene Glycol, Titanium Dioxide, Polysorbate 80, Blue #2.
Recommended Dosage
Take 3 tablets daily with breakfast and do not exceed the daily dosage. See side effects for more information about who should not take this supplement.
TestroVax is designed for those over 30 who have declining testosterone levels and results are more likely if used by athletes and bodybuilders. If the good reviews are anything to go by, this could be a supplement that works for you but make sure you see your doctor first as there are a lot of warnings and side effects.