#2) Simeon Panda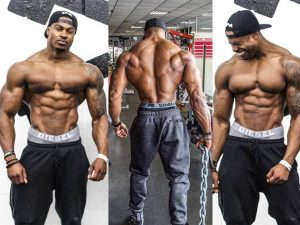 6"1, 220 5%BF FFMI comparable to arnold's : 28.7
During an interview in 2014, he claimed he was a pro natural bodybuilder, and that it is possible to achieve that physique. It's just that he'd been working on his for 10 years. BULLSHIT.
Simeon Panda – Australian TV Interview :
#1) Kali Muscle
5'9 250lbs 5% BF and FFMI = 35
This is no joke, an FFMI of 35. He is the incarnation of anabolic steroids. Yet to this day, Kali Muscle still claims to be all natural, and having built his physique through exercise and nutrition only, in prison.
In comparison, Frank Zane has an FFMI of 26.1
Here is a video of Kali displaying his juice stack : fruits.
The Fat Free Mass Index (FFMI) is an indicator of the level of physique of a subject. Unlike  the standard Body Mass Index (BMI), the FFMI considers fat free mass.
A BMI minus the fat indicating anything over 25 is extremely likely to indicate signs of steroid use. However, without tests, It is impossible to prove 100% that someone is fake. The FFMI should only indicate how much of an anomaly the athlete is.
To calculate your own FFMI, here is a practical tool:   http://www.thecalculator.co/health/Fat-Free-Mass-Index-(FFMI)-Calculator-794.html
For Comparison :
Bradley Martyn 6'3 260lbs 7.5%BF  FFMI 30.9
Arnold : 6'2 235lbs 7% BF FFMI 28.7
Jeff Cavalier 5'7 165lbs 9% BF FFMI 23.2
Omar ISUF 5'9 183lbs 13%BF FFMI 23.1
Marc Fitt 5'10 176lbs 10% BF FFMI 22.8
Zyzz : 6'1 205lbs 7%BF FFMI 21.6