David Douglas is a powerlifter who tips the scales at well over 300 pounds, and he's a former Marine. When he met 12 year old Lindsay, the two became fast friends. David is nicknamed "The Beast", and it's obvious why… But out of all his massive muscles, perhaps his heart is the strongest.
"People looked at me as strong when everything about her was stronger. Instead of putting those words off to the side, I decided to put it right on me to make the point even louder." – David "The Beast" Douglas
The two met at a powerlifting meet that was setup to benefit children suffering from diseases. Lindsey suffers from progeria, which is a rare disorder that causes her to age roughly 8-10 times faster than usual, so people with this disease usually live to be about 13 years old. David Douglas was so moved and inspired by meeting Lindsay that they become best pals, and the way he speaks about her is truly moving.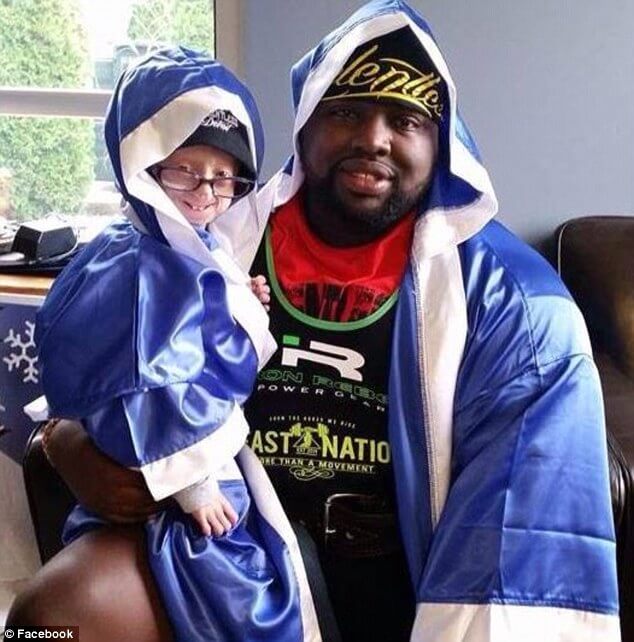 In a message to Aplus.com, David talks about how it all happened:
"Back in early 2013, I was going into my 7th year in the Marine Corps, stationed out in California. I was going through so adversities in my personal life. I remember being down on my luck. Shortly after, I was contacted by another Marine Corps veteran and police officer, Tommy Westhoff, who happened to be the promoter for Relentless Detroit at the time. He asked me if I had heard anything about Relentless before and began telling me all about it. Then he blessed me with the opportunity with the chance to be a lifter at the upcoming event in November of that year in Detroit. I couldn't have said yes faster. I felt like that would give me a purpose and not just going out and lifting weights. He made it a point to (tell) me that it's not about how much you can lift at these meets, it's about making the kids feel like superstars. It's their day. I was all about that. Months leading up to this event i was fundraising and Tommy contacted me again and told me that a family and their little girl who they were sponsoring that year wanted to meet me. I couldn't stop smiling and told him to let them know I can't wait to meet them."
If you want to help out, you can make a donation to Lindsay's family here.
Since that first meeting, the two are now real pals.
"Lindsay became my lil sis since day one," Douglas writes. "I knew she meant something to me, but after everything that has happened, there is no words to describe how I feel about her. She has pulled me out of rough spots just by thinking of her. That is a priceless gift. That is why I made it my duty to help her out in any way that I can. We tried hard to get her on the Ellen show so that we could spread her story of this rare condition to the world, but fell short, but still truly hoping to get on there. One of Lindsay's favorite shows."