After stalking Rich Piana outside his gym, Prophet Muscle challenged the superstar bodybuilder in a fight. Keeping his cool and usual friendliness, Rich kept talking to the man he'd never met, and even asked to exchange numbers. However, the wannabe fighter insisted on fighting, on the basis that Rich uses anabolic roids.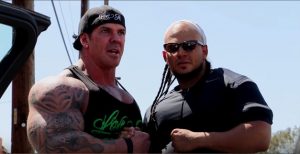 His motives were different. Prophet uploaded a video trying hard to mock the bodybuilder and make him look weak; successfully creating drama for a video that hit 3.2 Million views.
Rich's response was priceless.
Rich makes a slip early in his video, calling Prophet Muscle 'prophet p—-', and laughs about it… He explains that he was challenged and offered $20,000 as incentive to fight the rising Youtuber.
Rich thought that his opponent wouldn't have the guts to step in a ring with a monster like himself and didn't bother. However, after calling out the 260lbs bodybuilder one too many times, Rich suggested a gym at Metroflex, home of Ronnie Coleman and Branch Warren, where there is a cage appropriate for fighting.
"let's f—— do it. tomorrow night. Go on your Instagram and name a time. no rules, just MMA gloves and let's do this."
No answer was given.  To prove Prophet is no more than a liar, he matched Prophet's original bid of $20,000. But because using the name of Rich brought a moment of fame to his life, Prophet wanted it to last as long as possible. Prophet simply wouldn't fight Rich like he said he would. Not for $20,000, not for guaranteed popularity, not even for $100,000 –which is what rich proposed later on. Because he knew that Prophet Muscle was 100% fake. To prove his point, Rich went as far as printing out 2,000 shirts saying "Prophet Muscle P—-" giving them away at expos.
Weeks later, Rich made an alternative offer:  Prophet would receive $20,000 for fighting his friend Ron, a 128lbs fighter. And $100,000 if he won.
Prophet, who is 6'2 at 260lbs, claims he has a video of him fighting Mike Tyson.
"You can fight 128lbs guy and make $100,000 dollars! Why in the f—, if you are a top MMA fighter, would you not accept that fight. Why? Because you're not a fighter."
"I have humiliated this guy publicly and showed the real deal: he's a f—— fake. His bullshit YouTube Career is over"
Rich went into a lot more details in the video he released on the topic, now we can finally put it all to rest after months of back and forth…
FOR THE STUPID PEOPLE – PROPHET MUSCLE – 100% FAKE – HELLO
Rich has bigger fish to fry now, like his divorce from his wife that he says was only with him for cash and a green card. Chances are it's going to be a messy one, can't see them being on good terms after that…