There's no greater dillusion than when a guy fills his body up with Synthol, looks in the mirror, and thinks he looks great.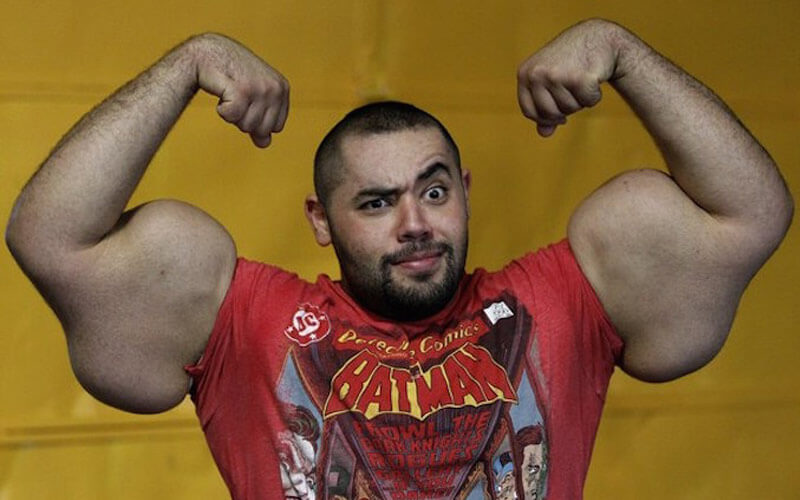 Let's be real, a lot of very competitive and high-level bodybuilders will use a little bit of Synthol here and there to help fill in the blanks, that's no secret – but the guys in this video? They're taking it way too far. They're not simply using Synthol for a small boost, they're relying on it for the entirety of their gains – and that's a bad look.
The guy talking in this video is Luimarco, make sure you check out the rest of his videos. He's been in the game a long time, and he's seen it all, so he's definitely worth listening to when it comes to this kind of stuff. After years and years of natural bodybuilding, he's earned the right to call out some of the guys who are trying to take shortcuts.
Drop a natty flex for the fans, Lui…
Yeahhhhh buddy!
In case you haven't heard of Synthol before, it's basically an oil that guys inject directly into their 'problem areas' in order to look more filled out. The problem is that a lot of them go way overboard, and end up turning themselves into clouds. It's definitely a form of body dysmorphia, and we feel for these guys for thinking they need to do this, because it's dangerous and some of them are probably mentally ill. Still, the temptation's always there, especially for guys at the top…
"I swear I have never used synthol, though in moments of frustration I have thought about putting it in my triceps. My wife Simone would kick my ass if I ever did that though." – Markus Ruhl
Things can go very, very wrong when you take Synthol and we definitely recommend against it, you'll get attention but it'll be the wrong kind of attention.