Minecraft fitness is now a thing… and yes, you heard that right. As the lines have blurred between video games and reality, players continue to find innovative new ways to entertain themselves inside this blocky universe. For those looking to bulk up, you can forget the protein shakes, supplements and gym bags, bodybuilding is the latest trend coming to a console near you.
As a sandbox environment, Minecraft isn't necessarily a game in the traditional sense, but rather a basic platform and set of tools that users can tweak and change through mods. From recreating the Mona Lisa in blocks to music video choreography, gamers have done just about everything imaginable.
Nonetheless, watching a pack of misfit zombies and ghouls deadlift is one of the more unusual activities we have witnessed.
Monster School: Bodybuilding is a Youtube video, showcasing the Minecraft workout crew shredding the weights and packing on the muscle.
Viewed more than forty thousand times since it was published, it is evident that a lot of players are interested, even if just for the sake of amusement. With upbeat music, an assortment of characters and a few good laughs, it definitely makes the whole thing look like a blast.
For years, parents have been pushing kids to go outside, ride a bike and get some fresh air. It has often been a losing battle, where they take every opportunity to stay indoors and play Minecraft with their friends. Little did we know that they weren't just killing monsters and building homes, they were recreating every aspect of our reality within a virtual world. Sure, they aren't going to see the health benefits of curling a pixel bar, but it's worth looking at what they do vicariously through an avatar of their own creation.
Alas, Minecraft is just an outlet for children and adults alike to pursue their fantasies. The limitless opportunities are what have drawn so many players in the first place, and we shouldn't be surprised that they choose to do what they wish they could in real life.
For parents overwhelmed by their child's lack of physical activity, this may be an opening to make fitness more accessible and fun. Look at what interests them in Minecraft, be that art, music or curling dumbbells and help them to pursue that outside of the screen as well.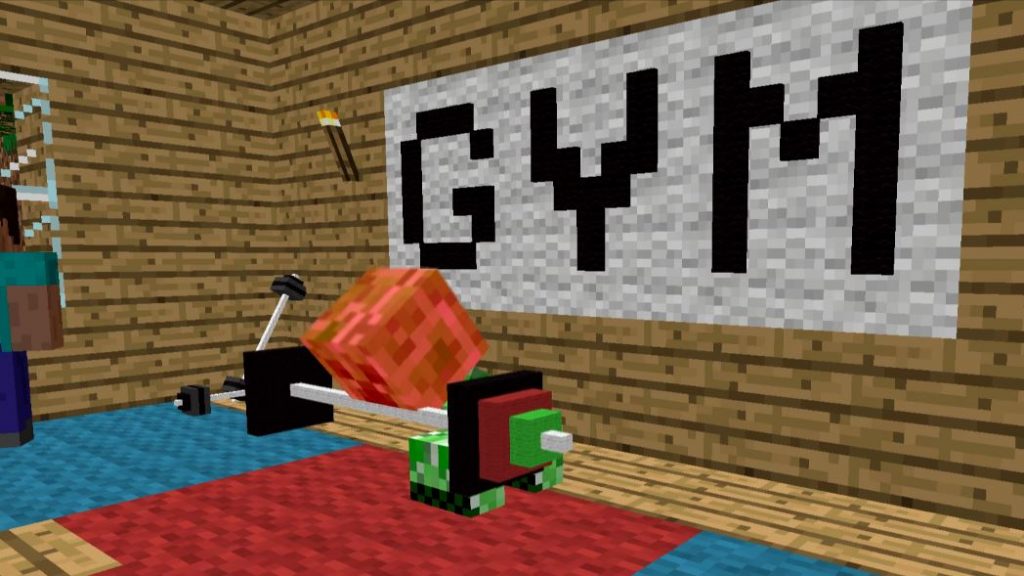 Minecraft fads come and go, just like they do in the real world, and this is likely just one of the many we have seen over the years. Still, there is something to be said for a bunch of bodybuilding gamers, organized in a classroom environment and enjoying the comradery of friends. Each one is different and the task isn't always easy, but they use their individual strengths to accomplish the goals.
Despite what you may think about video games in general, they have done wonders to bring a large, diverse audience together with common goals. Bodybuilding is just one small part of the bigger picture, but we can certainly appreciate the end result.