One of the main issues involved with the ingredients used in supplements for those with Low T is that many natural ingredients are still being assessed via clinical studies. Along with that is the problem with testosterone being bound to fat cells by SHBG (Sex Hormone Binding Globulin.) Test WORx claims that this supplement fights SHBG with a blend of EuryPeptides while boosting natural testosterone production.
When SHBG is blocked from binding testosterone to fat cells, the body can use this free T to increase the libido, energy levels and build muscle. Superior Labs offers this supplement through their website and on Amazon, so if you're interested to learn more, read on to discover what Test WORx could do for you.
Pros
Here are some of the positive reasons that people choose this option out of the countless other supplements out there:
Backed by many positive reviews
Contains a complete formula
Comes with a money back guarantee
Contains all-natural ingredients
One bottle lasts 6 weeks
Cons
It's expensive for what you get
Does have some negative reviews
Some say it has fake reviews
Contains a proprietary blend
We aren't very big fans of proprietary blends, and if it's true any of the reviews aren't real, that's not good either. This might not be the most perfect supplement out there, but that doesn't mean it hasn't worked for people out there, either. It comes down to budget, what you're looking for, and what your goals are.
Benefits
Along with freeing up bound testosterone, Test WORx also boosts T production. This can help with:
Increased energy levels
Enhanced stamina and strength
Improved sex drive and performance
Reduced fatigue
Increased muscle mass
Heightened focus
Side Effects
While there are some users who state they didn't notice any effects at all, some have reported a variety of side effects, which include:
Nausea or feeling sick
Jitters or trembling/shaking
Increased blood pressure
Insomnia
Anxiety or nervousness
If you're experiencing any negative side-effects, you should stop taking it immediately and depending on the severity, you should visit the appropriate healthcare professional.
Ingredients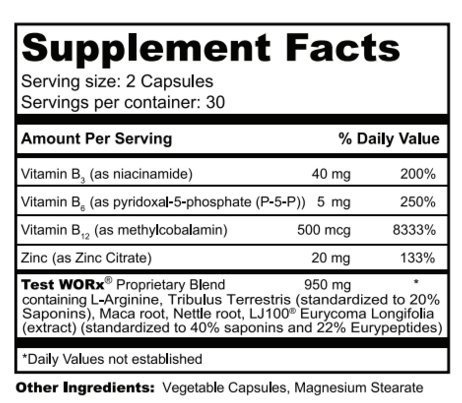 Here's a breakdown of the ingredients you'll find in side each bottle of Test Worx, along with what their intended purpose is for being included. Do you prefer supplements that have exhaustive ingredient lists, or do you prefer lesser amounts of ingredients? Sometimes, having a huge list of ingredients can be seen as using filler to make it look better, but in other cases they've looked in-depth at how the various ingredients interact, in order to make the most effective supplement possible.
Vitamin B3 40 mg – promotes healthy blood flow, helps with recovery, endurance and reduces inflammation
Vitamin B6 5 mg – helps with producing and regulating testosterone and increasing energy
Vitamin B12 500 mcg – helps to produce healthy red blood cells carry oxygen to muscles and reduces fatigue
Zinc 20 mg – maintains proper testosterone levels, improves healing and immunity
Proprietary Blend – Test WORx 950 mg:
Tribulus Terrestis – enhances testosterone, encourages muscle mass, increases metabolism, energy and focus
Maca root – deals with stress, fights fatigue, increases energy and improves muscle gain
Stinging Nettle root – helps with recovery, improves energy and reduces prostate swelling
Eurycoma Longifolia (LJ100) – improves free T levels, increases muscle strength and reduces stress
(The EuryPeptides contained in Eurycoma Longifolia (LJ100) fight against SHBG.)
L-Arginine – helps oxygen and nutrients move to the muscles and enhances performance
Other ingredients include Natural Rice powder and Plant cellulose capsules.
Recommended Dosage
Take 2 capsules per day in the morning on an empty stomach. This supplement needs to be taken for 5 days with a 2 day break and since the bottle should last 6 weeks, then take a week off before starting a new cycle.
Test WORx has a lot going for it, if the many positive reviews are to be believed, although some complain that there are reviews out there that are fake, due to the company giving out free samples. Common complaints with many supplements is that they don't contain enough of the good stuff and too much filler. After checking with your doctor, try it for yourself and see if those reviews ring true.
Where to Get it & Does it Work?
Whether or not this supplement will work for you depends on your expectations, how you react to the ingredients, and how much work you're going to put in physically at the gym. If you read through the Test WORx reviews and you want to give it a try, you can find it on Amazon and other retailers that carry a large  variety of supplements.