When men reach a certain age, testosterone levels start to decline and the lure of supplements that promise to turn back the clock can be irresistible. Finding a good product that works for you can be a long game of trial and error. Here we check out Mancore Testosterone Replenish, which is believed to be especially helpful for men over 50.
Complete Nutrition offer this supplement via their official website along with others designed to help those with Low T. They claim that it can help with stimulating the production of healthy testosterone and boosting energy levels among other benefits and it's also gluten-free, so read on to see if it could be the one for you.
Pros
Their complete formula is revealed on their website
It's made by a well-established company
There are some positive reviews
The timeline for results is available online
Cons
There are no clinical studies to back up efficacy
Doesn't seem to come with a money back guarantee
Some side effects could be a cause for concern
Contains a proprietary blend
Benefits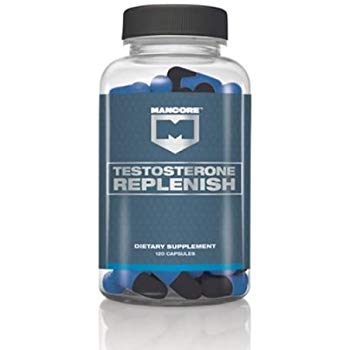 Designed to support free testosterone levels, Mancore Testosterone Replenish can also:
Increase muscle mass and strength
Improve workout results
Boost testosterone levels
Increase energy levels, especially for 50+ men
Enhance the libido
Side Effects
Most of the ingredients in this supplement are considered to be safe, although there can be side effects related to:
Zinc – Nausea, vomiting and a metallic taste
Stinging Nettle – stomach pains and profuse sweating
DHEA – Hair loss, high blood pressure, acne and hormonal abnormalities in women
Other side effects include dizziness, dehydration (if not enough water is taken with the supplement) and if you are sensitive to stimulants – be advised that nervousness and rapid heartbeat could be a problem.
Ingredients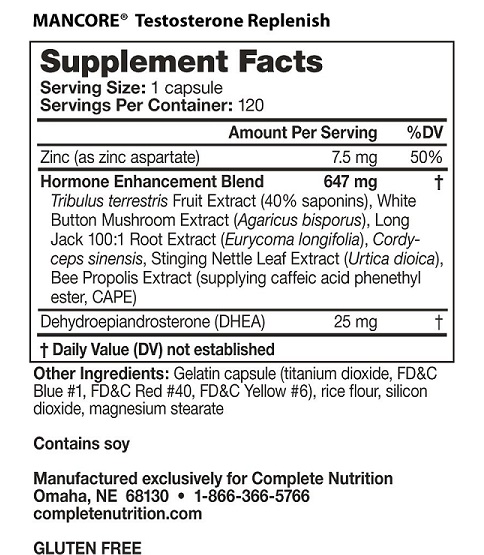 Zinc 7.5 mg – promotes metabolism, boosts immunity and blocks testosterone conversion to estrogen
DHEA 25 mg – boosts energy and the libido and supports healthy testosterone production
Hormone Enhancement Blend 647 mg
Tribulus terrestris – treats erectile dysfunction and improves the libido
White Button Mushroom extract – blocks testosterone conversion to estrogen and boosts free testosterone
Long Jack Root extract – improves sexual performance, lowers cortisol and improves strength
Cordyceps sinensis – increases testosterone levels
Stinging Nettle leaf extract – boosts free testosterone levels and overall health
Bee propolis extract – increases T levels and acts as an antioxidant
Other ingredients include Gelatin capsule, Rice flour, Silicon dioxide, Magnesium stearate, FD&C Blue #1, Red #40, Yellow #6 and Soy.
Recommended Dosage
Take 1 capsule in the morning and 1 capsule in the afternoon with 8 oz water approx. 15-30 minutes before meals. Mancore Testosterone Replenish is recommended to be used on an 8 weeks on and 4 weeks off cycle.
Do not exceed recommended dosage and do not take this supplement if:
You're under 18 years of age
You're pregnant or nursing
You have a serious medical condition
You're taking regular medication
If you're a professional athlete subject to rules and regulations, check the ingredients before taking this product.
Mancore Testosterone Replenish is said to be good for men over 50 years of age, especially when it comes to an increase in energy. Different supplements affect people in different ways, so after checking with your doctor, take a closer look at this product and see if it's the right one for you.
Where to Buy?
If you like what you hear, and you're curious enough to give Mancore a try, you can find it for sale at Complete Nutrition.